YOUR MOVING-TO-CINCINNATI QUICKSTART GUIDE
Everything you need to know before moving to the Queen City, all in one spot. Whether you're a student or a new parent, whether you're moving to Cincinnati for professional or personal reasons, you're moving to the right place. Between our friendly local communities, incredible arts-and-culture scene, and consistently low cost of living, Cincinnati has a lot to offer those ready to relocate to Southwestern Ohio.
EVERYTHING YOU NEED TO KNOW ABOUT MOVING TO CINCINNATI
QUICK CINCY STATS 
Need a Cincinnati 101? You've got it:
Population: While Cincinnati is not a huge city by any means, it's definitely risen in popularity. As of 2022, some 2,3 00,000 people live in the Cincinnati metropolitan area. That can sound like a lot, but Cincinnati remains a friendly, cozy-feeling city even though it's becoming an in-demand place to live.
Cost of Living:  Our beautiful Midwest city boasts a surprisingly low cost of living: Cincinnati is about 12% less expensive to live in than similar cities, and housing (in particular) can be much cheaper than the national average.
Climate:  Cincinnati's climate is mild, but a bit rainier than the typical Midwest city. In the summer, the mornings are warm and the evenings, humid; in the winter, there usually is some snowfall.
Education:  Nearly 30% of Cincinnati residents have a bachelor's degree; 10% have a graduate degree, on top of that. Over 80% have a high school diploma (or the equivalent of one).
OUR TOP CINCY RELOCATION TIPS
If you're moving to Cincinnati, here are some steps that might make the transition easier:
Start by assessing your priorities.  Cincinnati has a little of everything: great sports teams, beautiful green spaces, a thriving arts-and-culture scene, and surprisingly low mortgages and rent (if you know where to look). Determining which of these or other priorities are most important to you can help guide your relocation strategy.
Do your homework.  Finding a home requires research, but Cincinnati's a great place to look! If you have friends, families, or future employers in the area, ask if they have any connections with realtors or housing companies. You can also check out online realty sites such as Zillow, Redfin, and Homes.com to get an idea of current prices and what's available. Cincinnati boasts a wide variety of home styles, from apartments on the river to older, post-World War II houses in West Chester, Milford, and Loveland.
Consider your commute.  Are you willing to be creative? If you already know where you're planning on working or studying, you might decide to focus on locations near your school or employer. If you're open to including 15- to 30-minute commutes, you may be able to take advantage of historic, low-cost homes in North Cincinnati, trendy neighborhoods in East Cincinnati, or even the great real estate investments just minutes across the river in Northern Kentucky.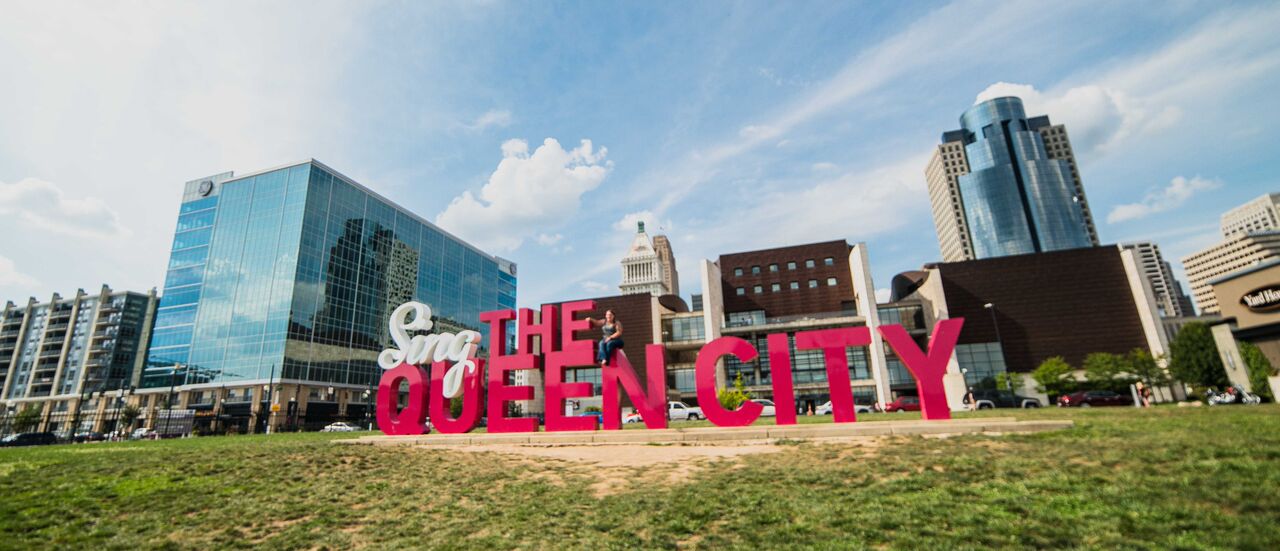 YOUR GUIDE TO YOUR NEW FAVORITE MIDWEST CITY
The Queen City has a lot to offer any newcomers! Here are six reasons why moving to Cincinnati is a great choice.
Cincinnati's growing, diverse job market. Cincinnati is home to several big-name employers, such as Procter & Gamble, Johnson & Johnson, and Kroger. If you're looking to make a name for yourself in manufacturing, retail, finance, or healthcare, you're sure to find opportunities here, whether you explore Cincinnati's medical system or one of its fine financial institutions.
Cincinnati's varied, specialized higher education offerings. The UC College of Medicine and Cincinnati Children's Hospital offer top-ranked science studies programs; and the University of Cincinnati has a (nationally recognized) co-op program, giving undergraduates hands-on experience in their fields of study. If you're interested in more of a small-school experience, Xavier University is located just a few minutes from downtown. Both Cincinnati State and Mount St. Joseph University offer incredible value for tuition and board.
Cincinnati's outdoor options. Want to get outside without getting too far from the city? Cincinnati offers a number of ways to escape the bustle of the city, while remaining a stone's throw from urban amenities. Fancy a stroll down a bird-watching trail? Check out the Cincinnati Nature Center. You can fish with friends at Sharon Woods, take your kids to outdoor story time sessions at Glenwood Gardens, explore rugged forest terrain at California Woods Nature Preserve, and hop into a canoe at Adventure Outpost.
Cincinnati's thriving arts and culture scene. Cincinnati's been named one of the most vibrant art communities in America. Once you get here, it's easy to see why. Whether you'd like to participate in the art, view it, or support it, you have options in the Queen City. From the Cincinnati Opera to Cincinnati Ballet and more, you can dress up and take in a performance at any of several venues downtown. The Taft Theatre has a packed lineup of comedy tours and concerts, and the Aronoff Center of the Arts has incredible seasons filled with Broadway shows. Interested in a quiet stroll through art, instead? The city's myriad museums, from the Contemporary Arts Center to the Cincinnati Museum Center, are ready to welcome you with open arms.
Cincinnati's three pro sports teams! Between home games for the Cincinnati Reds, Cincinnati Bengals, and FC Cincinnati, your game schedule can be packed with heart-pumping action from the Queen City's beloved top players. If you're looking to support collegiate sports, both the University of Cincinnati and the Ohio State Buckeyes offer soccer, basketball, and football games on a regular basis. The city is also home to one of the greatest annual marathons in the country, the Flying Pig Marathon. Find your running shoes, throw on a football jersey, don your baseball cap. Whatever works for you.
Cincinnati's cultural festivals. Whether you're looking for a taste of Germany in the middle of Ohio or want to learn everything you've never known about Goetta, Cincinnati is the place to be. Fall brings with it Oktoberfest Zinzinnati, a festival brimming with German foods and beers. In winter, the Cincinnati Zoo hosts the PNC Festival of Lights, a celebration with over 4 million LED lights twinkling alongside great music. Love sampling incredible food truck fare? Taste of Cincinnati is for you. From the Panegyri Greek Festival to Goettafest, attend one celebration and you'll know for sure that no one parties like the Queen City!
WANT TO LEARN MORE ABOUT YOUR NEW FAVORITE MIDWEST CITY?
If you're even considering moving to Cincinnati, check out the great guides our team has put together–for reference now or later.
EVERYTHING YOU NEED TO KNOW ABOUT MOVING TO CINCINNATI…AND MORE?
The best way to get a feel for Cincinnati is to schedule a visit. Check out our events calendar to see what's going on, book a stay at a historic hotel downtown, and get set to enjoy a great weekend in the Queen City! 
Here are a few more tips to make your stay easier:
Look into public transportation before you arrive. For example, Cincinnati's Go Metro bus service can make it much easier (and less expensive) for visitors to travel from downtown hotels to CVG, the Cincinnati and Northern Kentucky International Airport. 
Tour your favorite neighborhoods. Cincinnati is made up of several distinct suburbs and urban neighborhoods, each with its own personality, amenities, and flair. Whether you're looking for low rent or a short commute, there's sure to be a locale worth looking into. (Psst: Here's our guide on the best neighborhoods to move to in the Cincinnati area.) 
Tour a few different types of homes in your price brackets. Cincinnati is full of historic homes replete with personality as well as newly-renovated condos and apartments. Even if you aren't planning on buying (or buying anytime soon), knowing what's out there can be powerful (and fun). 
Drive past the various school districts, churches, shopping centers, and business areas that might be relevant for you and your family. This can give you a feel for your prospective commute, start to help you feel more familiar with the area, and even help you get excited about your prospective move. 
Have fun! Take in a ball game, participate in a sporting event, or go to trivia at one of Cincinnati's friendly neighborhood pubs. Cincinnati's a vibrant city, with an always-updating lineup of exciting community events.