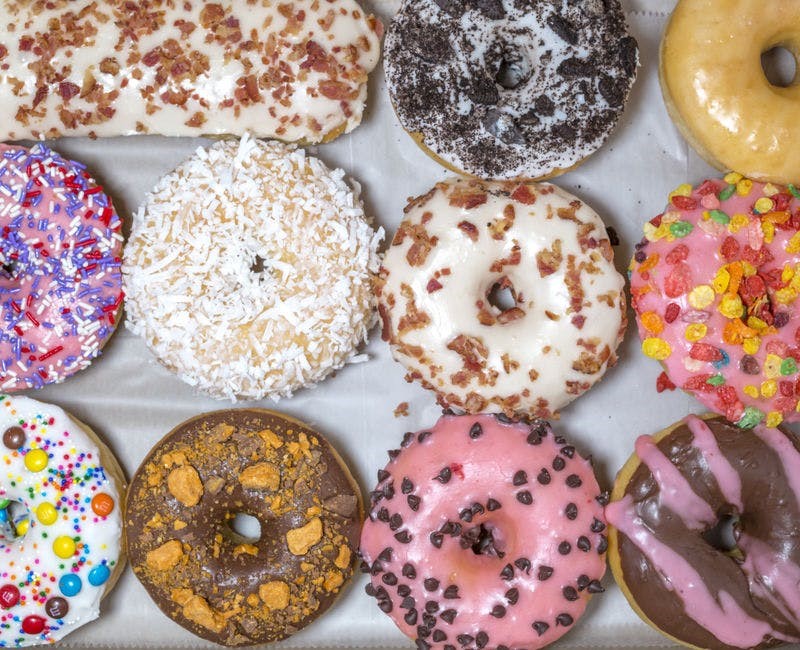 Hit the road for beer, bourbon, bikes, and donuts—not necessarily in that order—on one of these mini Cincinnati Region excursions.
1. Butler County Donut Trail
If you, like us, could eat a donut at a moment's notice, then make ready for National Donut Day, coming right up on June 7. Celebrate with a classic glazed from your favorite shop or better yet, explore the Butler County Donut Trail. Visit all 12 featured shops to get your very own Butler County Donut Trail t-shirt, and wear it proud on Donut Days to come.
2. Brewing Heritage Trail
The Cincinnati Region's Over-the-Rhine neighborhood used to be synonymous with beer. Hundreds of bars and breweries—most built, owned, operated, and patronized by our late-19th-century German immigrant population—dotted OTR's blocks, making Cincinnati an epicenter for all things beer. Explore this incredible history on the Brewing Heritage Trail. Take a guided tour or wind your way through informational sign posts on the immersive 5-mile route.
3. The B-Line
Head just over the Ohio River into Northern Kentucky—the gateway to bourbon country—to begin your tour of "America's Official Native Spirit." Make a day of it by stopping at each of the 14 distilleries, bars, and restaurants on the self-guided trail, or personalize your tour with a visit to your top picks.
Looking for an excuse to get sipping? The 2nd-Annual Big Bourbon Toast, a free event hosted by Newport's own New Riff Distilling, takes place on June 14 from 5:30-8:30 p.m. on the Newport Southbank Bridge (a.k.a. the Purple People Bridge). The first 500 guests at the Toast will receive a Big Bourbon Toast shot glass topped up with New Riff Bourbon.
Can't make it to the Toast? Don't miss Kentucky's Edge, a bourbon festival in Covington, Kentucky, set for October 4-5, 2019. Kentucky's Edge will feature a free music festival, conference, market, and plenty of bourbon tasting.
4. Ohio River Recreational Trail
After all that imbibing, take a beat (or a whole day) to recover and then get out on the water. The brand new Ohio River Recreational Trail will make water sports more accessible in the Cincinnati Region. The Ohio River Recreational Trail Voyageur Canoe Adventure from June 1-9, 2019, is the inaugural event of the trail, designed to locate public access sites for the river and document bike routes along the way. The Cincinnati region has a history with river sports, hosting the annual Ohio River Paddlefest, the nation's largest paddling event. Want in on the fun? Explore some of the trail's 274 miles between Portsmouth, Ohio, and Louisville, Kentucky, starting with this digital guide to the Ohio River.
5. Bike Trails
There are currently nearly a dozen individual bike trails throughout the region, and many are under further construction (including downtown) to create connections and give cyclists longer unbroken paths. Our favorite at the moment is the 76-mile Little Miami Scenic Trail, a scenic, shady path that connects Loveland, Ohio, to Yellow Springs, Ohio, and beyond to Springfield, Ohio. But stay tuned as many trails are nearly complete to connect even more neighborhoods and areas within our region.

Written by Amy Brownlee. May 30, 2019