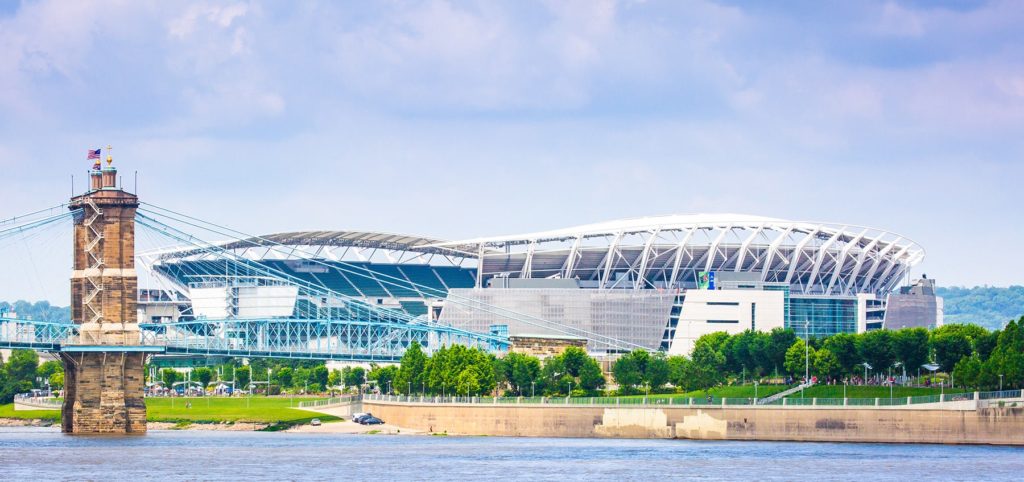 WHERE TO EAT
If you're looking for a foodie city, you couldn't pick a better place! Whether you enjoy fine dining or a casual rooftop deck with friends, there is more than enough to try in a weekend. Cincinnati is home to a diverse blend of cultures and has a dish to satisfy any palette. Start your day off with breakfast at Brown Bear Bakery or Sleepy Bee Cafe. For lunch, eat at Taste of Belgium on the banks, try Detroit-style pizza at Taglio, or head over to Eli's BBQ, Cincinnati's go-to barbeque. For a fine-dining experience try Mita's, a Columbian-inspired restaurant, Orchids at Palm Court inside of the Hilton Netherland Plaza hotel, or Boca, one of the finest French restaurants in the country. For the best fried chicken you've ever tasted, don't miss the Eagle in Over-the-Rhine. And of course, delight that sweet tooth with handcrafted ice cream at Graeter's Ice Cream, or a gourmet treat at Aglamesis Bro's or Maverick Chocolate Co.
TAKE A TOUR
You've probably heard of Findlay Market, a Cincinnati gem and one of the top 10 food markets in the world. For full immersion in the history and tastes of Findlay Market, try The Findlay Market Food Tour, Cincinnati's most popular food tour. While you're in the area, see how many murals you can spot– there are more than 50 murals that exist in Cincinnati's downtown! For a guided tour, check out ArtWork's public walking tours. Feeling adventurous? Go underground on the Queen City Underground Tour to explore the historic lagering tunnels of Cincinnati. For self-guided tours, try the Brewing Heritage Trail or The Butler County Donut Trail. In Northern Kentucky, you'll find a collection of distilleries and bars known as The B-Line, the gateway to the Kentucky Bourbon Trail, an absolute must-try. Learn more about Cincinnati tours!
EXPLORE MUSEUMS
Make your weekend in Cincinnati even better by exploring our museums. We've got a lot to chose from! The Cincinnati Art Museum, located on a hill overlooking the city, houses more than 67,000 works and always has fascinating exhibits on display. The Contemporary Arts Center in the heart of downtown appeals to modern art enthusiasts with three floors of contemporary artwork.  A historic artifact, the Taft Museum of Art, is actually the 200-year-old home of Charles Phelps Taft. This well-preserved building showcases the history of Cincinnati, the perfect place to visit for any lover of history. Speaking of history, another Cincinnati icon is Union Terminal, a massive building that houses the Cincinnati Museum Center, the Museum of Natural History & Science, and the Children's Museum to name a few. Another Cincinnati favorite is the American Sign Museum. Just a short drive from downtown, this museum has every kind of neon sign that you could imagine.
HEAD TO THE ZOO
Less than 10 minutes from downtown is the Cincinnati Zoo. Did you know that Cincinnati has one of the best zoos in the country? We're the greenest and second oldest zoo in the United States and home to an adorable baby hippo named Fiona. Whether young or old, animal lovers should visit the Cincinnati zoo during a weekend visit.
SAVOR THE ARTS
Cincinnati is a city of music and arts. In fact, we're one of the only cities in the country to have our own companies in all 5 arts: theater, opera, symphony, ballet, and fine arts. While you plan your weekend in Cincinnati, make sure to attend a ballet by the Cincinnati Ballet Company, a performance with the Cincinnati Symphony Orchestra, or a play from one of our 7 theaters. Maybe if your visiting during the summer, you'll catch one of our free outdoor performances!
EXPLORE OVER-THE-RHINE
Over the past 25 years, a Renaissance has been going on in the downtown neighborhood of Over-the-Rhine. Thanks to the hard work of 3CDC and others, this neighborhood has been lifted back to life. While you're in Cincinnati, make sure to spend lots of time exploring this upbeat urban area. OTR is brimming with fun restaurants, local shops, and colorful Italianate architecture.
TRY OUR CRAFT BEER
Seriously, if you're in the Cincinnati and Northern Kentucky region you'd be crazy not to check out the beer scene. This is the place to be if you love craft beer and bourbon! Take advantage of the variety of bars, pubs, and breweries in the area. Yes, you heard that right: we've got over 50 breweries in Cincinnati.
Looking for some recommendations?
ATTEND A SPORTS GAME, OR SPEND A DAY AT THE RACES
While you're spending the weekend in Cincinnati, you may as well attend a sports game. Depending on the season you could catch a Red's baseball game, a Cyclone's hockey game, a Bengal's football game, or an FC Cincinnati soccer game. If you enjoy college basketball, we've got four division 1 teams to choose from. If you aren't familiar with the Kentucky and Cincinnati area, check out horse-racing at one of our racetracks. If you'd prefer the car kind of racing, we've got the Kentucky Speedway, too.
ENJOY THE PARKS
We're known for our terrific park system, so enjoy it while you're in town! Hop on a bike and ride for miles on one of our many bike trails. Take a leisurely stroll along Smale Riverfront Park or walk across the Purple People Bridge into Kentucky. Grab some friends and head to Washington Park for a kickball tournament on the lawn or enjoy one of the many weekend events at the park.
GRAB A CUP OF COFFEE
Cincinnati loves coffee. Chances are, you'll run into a coffee shop every few minutes as you drive around the area. For a Cincinnati favorite, try Coffee Emporium, a local coffee shop that sources directly from farmers and roasts locally in Over-the-Rhine. Scattered throughout other neighborhoods, you'll find Mom 'n Em, Deeper Roots, or Bowtie Cafe. Wherever you go, you're guaranteed to get a delicious cup of local coffee to keep you fueled for your weekend in Cincinnati.
WHERE TO STAY
There are many options when choosing a place to stay during your weekend in Cincinnati. In the heart of downtown is Cincinnati's oldest and most famous hotel, the Hilton Cincinnati Netherland Plaza. This historic hotel features authentic French Art Deco and fine dining restaurant, Orchids at Palm Court. In Over-the-Rhine, you'll find the sophisticated and classy Symphony Hotel, originally a mansion converted into a hotel, and on the south end of downtown, you'll find the Lytle Park Hotel featuring a fun rooftop dining experience. For a modern and artistic experience, stay at the 21c Museum Hotel, next door to the Contemporary Art Museum. A short drive from downtown is the Mariemont Inn, a cozy Tudor-style inn situated right in the heart of the Village of Mariemont.