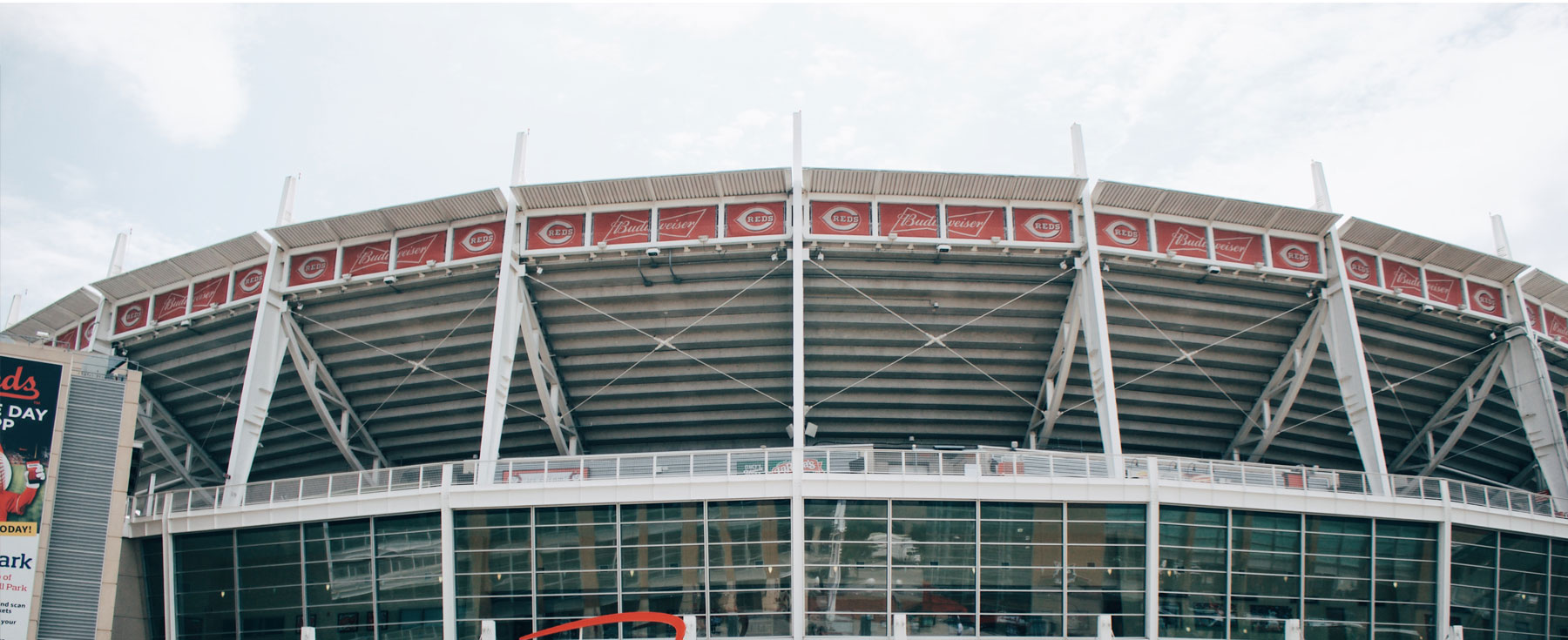 CREATIVE THINGS TO DO WITH FAMILY IN CINCINNATI
Got family in town that you need to entertain? Visiting family in Cincinnati, or simply got young ones itching to get out of the house? Here are our faves for Queen City family-friendly fun!
OUR FAVORITE THINGS TO DO WITH FAMILY IN CINCINNATI
TOUR AN ACTUAL CASTLE IN LOVELAND
In Loveland, a 25-minute drive from the heart of downtown Cincinnati, sits a real stone castle that you and your family can explore to your heart's content. The castle itself is full of relics, suits of armor, and games for kids of all ages to try. Surrounding the castle you'll find shady grounds, gardens with benches in them, or towers overlooking rivers—all perfect things to do with family in Cincinnati. Whether you spend your time learning about Harry, the architect of Loveland Castle, looking at the castle's collection of weaponry, or seeing if you can track down any of the castle's ghostly inhabitants, your family is sure to have a wonderful time.
PITCH A BALL AT THE CINCINNATI REDS HALL OF FAME
Do you have a Reds fan in your family? The Cincinnati Reds Hall of Fame presents a good mix of nostalgic exhibits and interactive fun for kids and adults alike. Visit the Reds Hall of Fame to learn more about how America's very first pro baseball team got started or get in on the game by seeing how fast you can pitch a ball. Want more? In addition to plenty of artifacts allowing modern-day baseball fans to see Reds baseball history before their very eyes, you'll be able to venture behind the scenes by calling plays in the Reds broadcast booth. Round out the perfect day for young sluggers in Cincinnati with a tour of our beautiful Great American Ball Park!
VIEW THE WHIMSICAL STATUES AT HIGHFIELD DISCOVERY CENTER
While the many Great Parks of Hamilton County offer many incredible getaways around the Queen City, the Highfield Discovery Center at Glenwood Gardens is a definite standout. The Discovery Center is brimming with features, activities, and fun straight out of a storybook—life-size fairy gardens, interactive trains, butterfly enclosures, and more. The Discovery Center offers things to do with family in the heat of the summer in Cincinnati, including shaded trails and water parks. When you visit for a stroll through the Center's unique gardens, you'll have to check out our absolute favorite, the Wizard's Garden. (Although, when you do, here's a tip: Don't you dare wake the dragon from his peaceful slumber!)
EXPLORE THE DUKE ENERGY CHILDREN'S MUSEUM
Perfect for families with children in grades K-5, the Duke Energy Children's Museum is often ranked one of the best museums for kids in the nation. And it's one of our favorite things to do with family in Cincinnati! Stroll through the Children's Museum's front doors and you'll gain entrance to a series of "educational neighborhoods," locales for exploration, discovery, and hands-on learning. The museum even has two neighborhoods set aside for the youngest learners (children aged 1-2). Before you head out, check out the Children's Museum calendar. The Museum hosts nearly 2,000 hours of special just-for-kids programs each year. Whether you're looking for an event on a specific educational topic or hope to celebrate a cultural event at the museum, you're sure to find something that's exciting for your entire family.
ENJOY A PICNIC BY THE RIVER AT SMALE PARK
Along the beautiful riverside in downtown Cincinnati sits a park that's packed with art, family-friendly activities, and large expanses of grass for picnics. Young ones have their pick of several playgrounds (including one that allows them to ride one of Cincinnati's iconic flying pigs) or they can run through the in-ground fountains to cool off on a hot summer's day. If the larger-than-life piano doesn't hook them, perhaps they'd be interested in a swing with a river view. Smale Riverfront Park also features a peaceful labyrinth, an animal-themed carousel (see if you can spot the Bengal tiger!) and more. Bring a picnic or grab some food from any of the surrounding restaurants to enjoy a beautiful afternoon riverside in Cincinnati!
VISIT WITH FIONA AND FRIENDS AT CINCINNATI ZOO 
In just one visit to the Cincinnati Zoo, you can see over 500 animals (and thousands of different types of plants). Whether your family takes to the heights with the new-for-2022 Kanga Klimb or wants to see the monkeys swinging on Gibbon Island, there are lots of things to do with family at the Cincinnati Zoo. For the youngest of visitors, the Zoo hosts interactive barnyard shows. You may even get the chance to meet a wallaby or an aardvark, depending on the day of your visit! If you're making a full day of it, the Zoo has many resting areas with beautiful views, places to stop for tasty treats, and even carousel and train rides so you can relax while on-the-go.
CLIMB TO THE TOP OF THE CAREW TOWER
Want to treat your family to a bird's eye view of downtown Cincinnati? Carew Tower, a gorgeous Art Deco building in the heart of the Queen City, has an outdoor rooftop observation deck perched atop its 49-story building. Carew Tower is the second-tallest building downtown, and offers a unique way to appreciate the area. Whether you come to people-watch or play I Spy with famous Cincinnati landmarks, you and your entire family will enjoy this uniquely Cincinnati experience.
SEA WHAT'S NEW AT THE NEWPORT AQUARIUM
The Newport Aquarium is home to hundreds of gorgeous, unique sea creatures. It's also the location of one-of-a-kind dive shows, a "petting zoo" Tide Pool area, and a bog-themed play area where children can run around to their heart's content, and meet some cool frogs along the way. If some of your braver family members are interested in touching a shark, they can do so (safely!) at the Newport Aquarium. Still not fazed? Dare your family members to cross the Shark Bridge, a suspension rope bridge hung over a gigantic shark tank! Sharks aren't all the Newport Aquarium has to offer. You'll also find rare types of alligators, penguins, seahorses, stingrays, and fish. Hungry after your day at the Aquarium? Nearby Newport on the Levee has you covered with an outdoor mall full of delectable restaurants and views of the Ohio River.
GO FOR A HIKE AT THE CINCINNATI NATURE CENTER
It can be difficult to find a place to appreciate nature when you live in a bustling, dynamic city—but not if you live in Cincinnati. Cincinnati Nature Center is only a few minutes away from downtown, but it doesn't feel that way! The Nature Center offers lots of things to do with family. You can enjoy a rambling hike, take a picnic and a book, or simply relax and enjoy the sights.  This is a serene environment and a place to breathe deeply for all who set foot on its 1,700+ acres of fields, forests, and waterways. Want something a little more interactive for a young family? The Nature Center has created engaging programs for children and adults. Just check out their site for more information and a packed events calendar.
TAKE IN A SHOW AT THE CHILDREN'S THEATER OF CINCINNATI
Every season, the Children's Theater of Cincinnati puts on a season of productions sure to enchant children (and the young at heart). The company has invested heavily in quality equipment and talent, so don't dismiss this as "just for kids." Families come from all around to enjoy a show, but they come back to appreciate the moving storylines and memorable messages. Recent fan favorites have included shows such as Moana Jr., Harriet Tubman: Straight Up Outta' the Underground, and Jacqueline and the Beanstalk. The cast and crew are always shaking things up, so be sure to check out their site to discover each season's new lineup.
SLIDE DOWN A POLE AT THE CINCINNATI FIRE MUSEUM
If you'd like a unique thing to do with family in Cincinnati, the Cincinnati Fire Museum is it. This unique museum in the East End of Cincinnati teaches children safety basics for dealing with fire emergencies, showcases antique equipment, and even allows children to slide down a fire pole and climb around a fire engine. The Cincinnati Fire Museum is dedicated to preserving the history of firefighting and firefighting technology. The museum has a collection of more than 6,000 artifacts, including uniforms, equipment, and photos. The museum is open to the public Monday through Saturday from 9 a.m. to 5 p.m; admission is between $6-8 dollars per person.