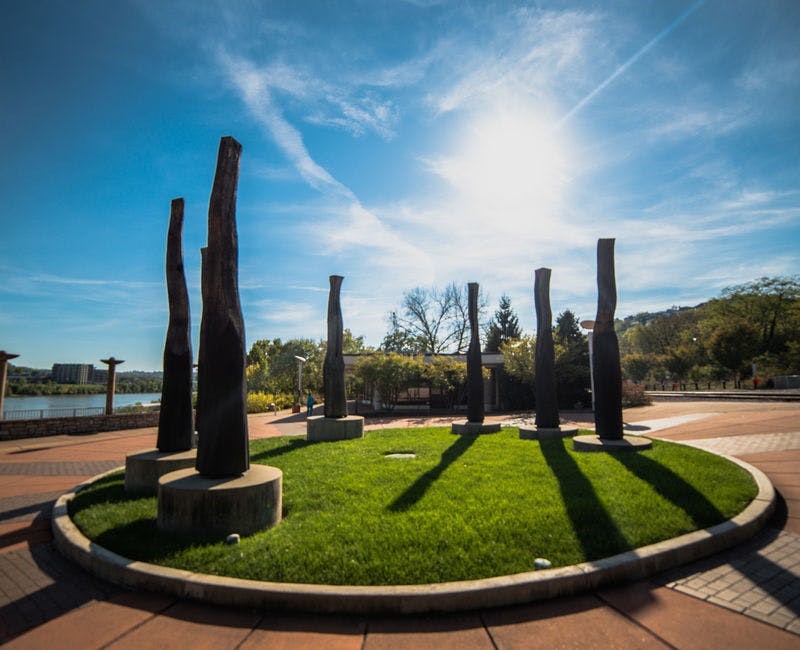 We're proud fans of the outdoors, here. It's a good thing, then, that about 10% of the city's land is devoted to Cincinnati Parks.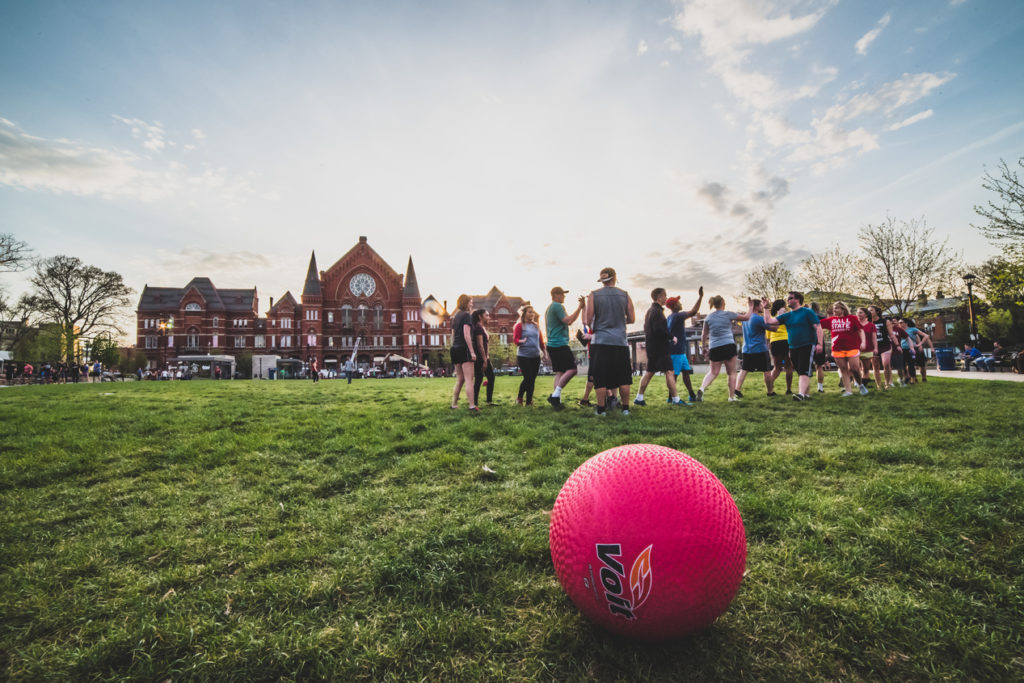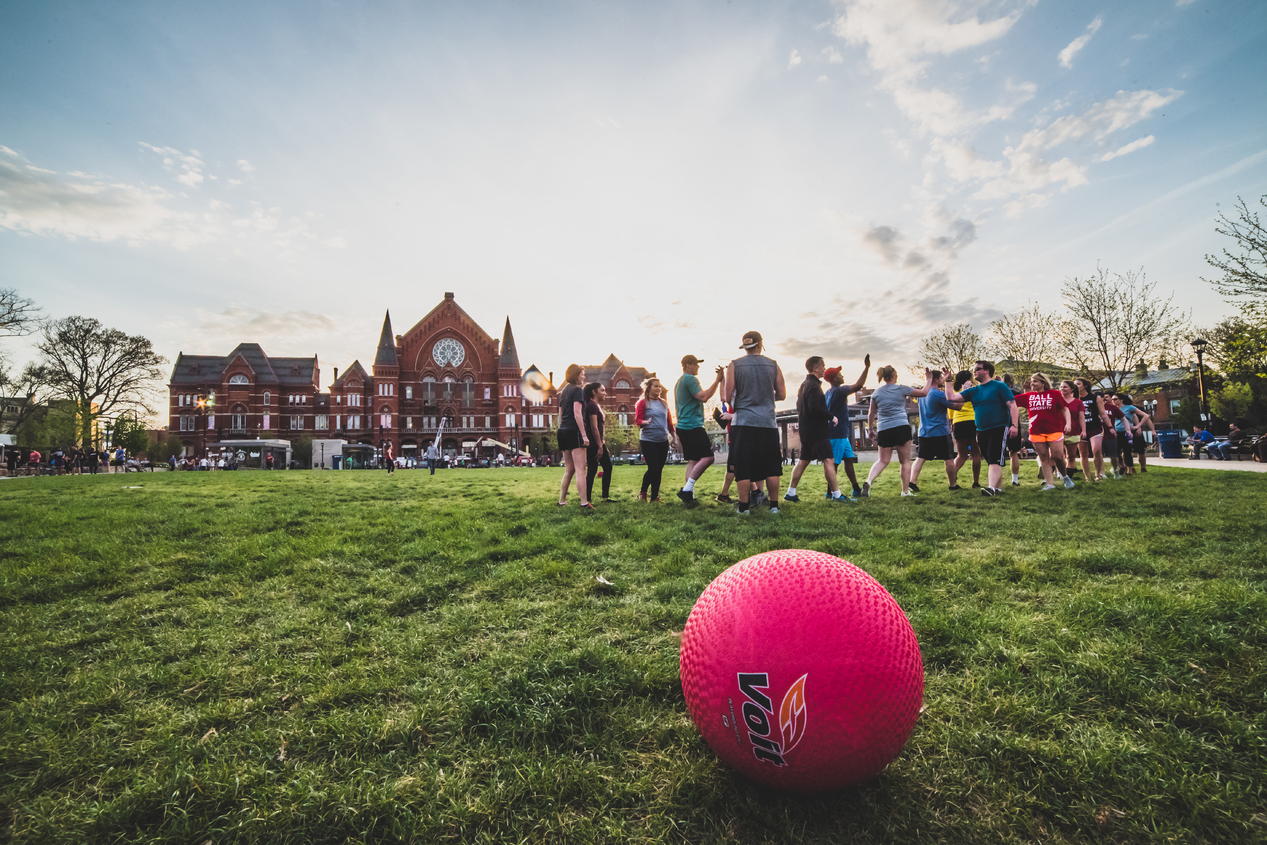 Much-Loved Destinations
Below is our shortlist of the best parks in Cincinnati. There are many more and likely one closer to you than you think but if you want to spend time at one of the best parks in Cincinnati, continue reading to see what fits your interests best.
Washington Park
Completely renovated in 2012, Washington Park sits at the foot of Music Hall in Over-the-Rhine, just north of downtown Cincinnati. Less a destination for those seeking athletic exercise and more a destination for urbanites seeking a place to enjoy the nice weather, the park includes a stage, underground parking garage, outdoor bar, a dog park, and extensive water playgrounds. There's almost always activity in the park with numerous events such as movies in the park, yoga in the park and a City Flea market are held here. Visit the park calendar for upcoming events and more information., *pictured at top. *
Otto Armleder
Most well-known for its 10-acre dog park, Otto Armleder park is one of Cincinnati's newest parks. This 238-acre park has it all. Here, you'll find hiking trails and a short bike path that connects to the longer five-mile Lunken Airport loop, plenty of soccer fields and shelters available for reservations and access to the Little Miami Scenic River. Website
Smale Riverfront Park
Since the first phase of it opened along downtown Cincinnati's riverfront in 2012, Smale Park has drawn hordes of locals and visitors. In addition to sprawling riverfront views, Smale Park boasts interactive fun for both kids and adults with oversized chess and checker boards, swings, moveable sculptures, a giant piano you can play with your feet, a labyrinth, and Carol Ann's Carousel, among many other unique features. Website
Devou Park
This hilltop park's overlook offers the best views of the Cincinnati skyline and city of Covington. The large park spans more than 700+ acres and offers a range of recreational activities ranging from adventure sports with eight miles of mountain bikes trails to more leisure with a fishing lake and amphitheater. Website
Eden Park
The most popular of the Cincinnati parks, Eden Park is much more than urban green space, it's a destination as the home to the the Cincinnati Art Museum, Cincinnati Playhouse in the Park and the Krohn Conservatory. Several landmarks scattered throughout the park like the Hinkle Magnolia Garden and gazebo, Mirror Lake and a 1894 Water Tower and its many overlooks revealed panoramic views of the Ohio River. A great place to spend a long afternoon wandering or lounging with a blanket. Website
Local's Hidden Gems
California Woods Nature Preserve
It has California in the name and it's a bit like the state, too—peaceful, full of trees, and home to miles of hiking trails and a large variety of animals like…. You even can find butterflies and hummingbirds playing there. Find a number of trail hike ideas at CityBeat. Website
Mt. Airy Forest
There are over 1,400 acres in Mt. Airy Forest. The sprawling park includes hiking trails, horseback-riding trails, a fenced-in park for dogs, disc golf, and a public treehouse accessible by wheelchair. Plus, there's the 30-acre Mt. Airy Arboretum, a favorite wedding site because of its picturesque grounds and lake. Website
Bellevue Park
Located near Clifton Heights on the upper edge of Over-the-Rhine, Bellevue park was built in 1955 as a place for city residents to enjoy dancing and live band music. The view of the city from Bellevue Park is a photographer's dream. Bring your camera. Website,* pictured above*.
Miami Whitewater Forest
A hop, skip, and a jump from Cincinnati and one of the Great Parks of Hamilton County, Miami Whitewater Forest is huge. It includes a 7.8-mile trail for biking, rollerblading, running, and walking, and several smaller trails. Hikers will love the miles of serene, shady trails, and those looking for lake activities will find them: the park includes an 85-acre lake with fishing, boating, paddleboarding, and kayaking. Take your own picnic or stop at the park's concession stand for ice cream and snacks. (30 minutes from downtown) Website
Don't Forget the Trails
Cincinnati is home to more than parks including 5 rivers and thousands of trails. Did you know you can ride your bike from Cincinnati to Dayton? The two cities are connected to Columbus by the Little Miami Scenic Trail, accessible in Loveland, about 30 minutes from downtown Cincinnati. See the full 78-mile trail here or check out Tri-State Trails, an organization dedicated to growing Cincinnati's connection to nearby cities in Ohio, Kentucky, and Indiana. You'll find a number of Cincinnatians and visitors utilizing the trails for commuting or just long, leisurely, day bike rides.
For more park tips, head over to the Visit Cincy site. Happy exploring!
Heather Churchman, freelance writer, information lover, and firm believer in finding fun wherever you are.
Updated by Anastasia Mileham, May 4, 2023