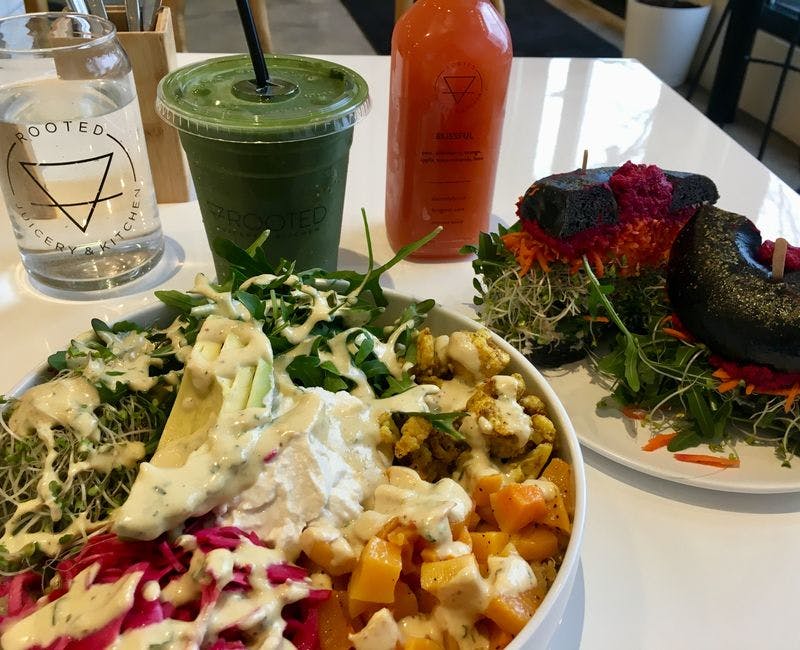 One local's take on our best veggie-friendly eateries.
For a plant-based eater, finding spots to eat in new cities is always a challenge. But as a lifelong Cincinnatian, I can assure that is not that case in the Queen City. Here are my personal favorite Vegetarian and Vegan restaurants around Cincinnati to grab a bite, from Brussels sprouts tacos in Northern Kentucky to vegan pies in Northside to fresh-pressed juices and smoothies in Oakley.
Rooted Juicery (Mariemont, Downtown & Oakley)
This is not your mamma's juice bar. Come in (and stay) for Rooted's fresh take on vegan fare and all-around upscale-healthy ambiance. Not only do they have some of the best juices and smoothies in the city, but also outstanding counter service and to-go options. Bonus: The house made vegan baked goods are beautiful and tasty—we promise, you won't miss the dairy. Multiple locations, rootedjuicery.com
What to Get: Roasted Veggie Sandwich Bowl, Ruby Beet and Charcoal Bagel, Green Goddess Smoothie
Loving Hut (Montgomery)
Though the Loving Hut is a national chain with more than 38 storefronts in 14 states, you're going to want to check out Cincinnati's location. Why? Because each Loving Hut restaurant has a different menu, and this one is a local favorite. 6227 Montgomery Rd., Pleasant Ridge, lovinghut.us
What to Get: Buffalo Wrap, Portabella Panini, Zucchini Bread
Aladdin's (Hyde Park, West Chester & Downtown)
At Aladdin's, they take great care in providing diet friendly Lebanese-American cuisine made with fresh and flavorful ingredients. Though Cincinnati boasts three locations around the city, their expansive menu is going to make it hard for you to choose. That's why the Vegetarian Appetizer Combo is your best bet: you get a little taste of everything you want. And sharing plates is definitely suggested. Multiple locations, aladdins.com
What to Get: Vegetarian Appetizer Combo, Hummus Falafel Rolled, Fattoush Salad
Maplewood (Downtown & Mason)
Looking for a fancy and kinda healthy brunch? Order champagne with any one of the house juices made with seasonal and local ingredients, and feel instantly at ease in the West-Coast style space. Multiple locations, maplewoodkitchenandbar.com
What to Get: Lemon Ricotta Pancakes, Avocado Benedict, Cold Pressed Juice Mimosa
Melt Revival Eclectic Cafe (Northside)
Melt is a Northside staple, stitting in the heart of the popular and cool Northside Neighborhood. San-Fran-based owners Shannon and Diane bought the Eclectic Cafe in 2017 when they moved back to the Queen City, and kept true to Melt's classic menu. They cater for a multitude of lifestyles so not to worry, there is definitely something on the menu for the meat-loving person in your life. meltrevival.com
What to Get: Vegan Chili Mac, Baked Buffalo Cauliflower Wings, Kale Yeah Salad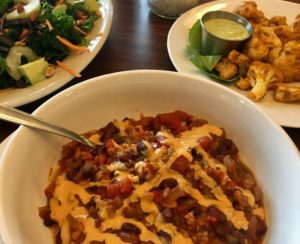 Ruth's Parkside Cafe (Northside)
For vegetarians and vegans alike. Whether you stop in for lunch or dinner, Ruth's provides a list of fun and funky menu items that can be ordered vegan and gluten free, so it will please even the pickiest of eaters. 1550 Blue Rock St., Northside, ruthscafe.com
What to Get: Tempeh Rueben, Roasted Beet Caprese, Yvonne
The Kitchen Factory (Northside)
Plant-based pies! Hand tossed, from-scratch dough gets loaded with fresh toppings, including mountains of crisp vegetables and a creamy, housemade vegan cheese blend. If you dig dairy, then make sure you order the "Dig the Fig." In addition to Golden Mission Figs, this artisan pizza is topped with tangy goat cheese, peppery arugula, and covered in an olive oil and garlic sauce. If slices aren't your style, don't sweat it. The Kitchen Factory has you covered with a wide variety of sandwiches and salads. The Kitchen Factory, 1609 Chase Ave., Northside, kitchenfactorynorthside.com
What to Get: Dig the Fig, Vegan Veggie Pie, The Vegan Meatball Sandwich
ESSEN Kitchen (Findlay Market)
Holistically healthy and totally tasty. Located in the historical Findlay District, ESSEN Kitchen serves up 100% plant-based lunch options. With a seasonally rotating menu, try one of their signature Bento Lunch Boxes, or grab a lil' something a la carte.1 Findlay St., Over-the-Rhine, essenkitchen.com
What to Get: ESSEN Burger, Daily Soup, Chocolate Chip Cookie
The Elusive Cow (Bellevue, Kentucky)
NKY's not-so-hidden gem. It doesn't matter if your a lifelong Cincy native or a first time visitor, The Elusive Cow welcomes you with open arms! Make sure you grab a couple friends and take a quick trip across the Roebling because they are serving up familiar comfort food with a twist, and you won't want to miss out.519 Fairfield Ave, Bellevue, KY, theelusivecow.com
What to Get: Hummus Plate, Falafel Pita, Portabella Fries
Frida 602 (Covington, Kentucky)
Where Modern Mexican and Mezcal go together like chips and salsa. Literally. This whimsical Covington favorite delivers flavorful and creative cuisine. A must-try (and local favorite) is the Brussels Sprout Tacos. The sprouts are cooked until perfectly tender, yet still hold a great crunch against the corn tortilla. Make sure you order multiple, because you might just convert a meat-eater.602 Main St., Covington, KY, fridasonmain.com
What to Get: Guacamole, Vegan Quesadilla with Chimichurri, Brussel Sprout Taco
Follow along as I continue to check-out new vegan restaurants around Cincinnati and create some of my own healthy bites.