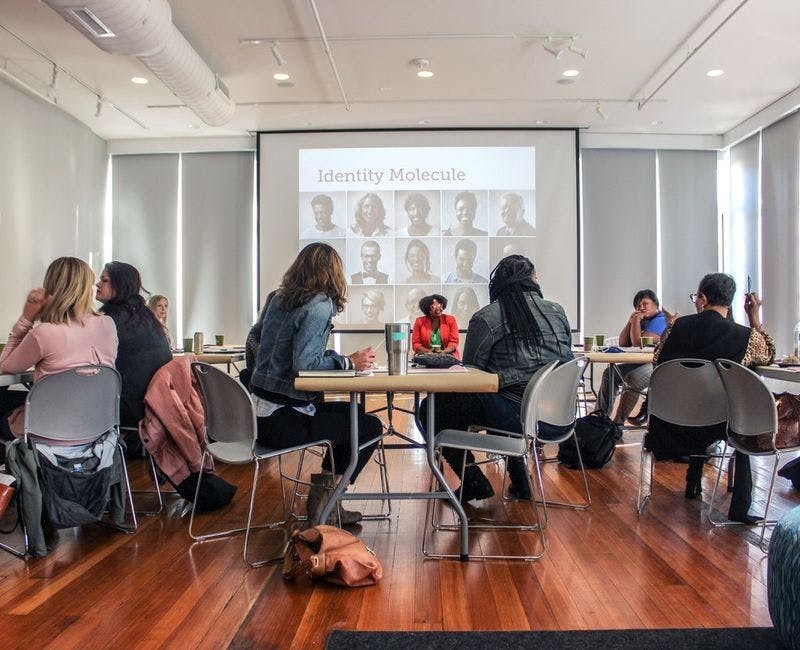 How a Haile Fellowship Grant turned into a pioneering effort to bring gender equity to the workplace.
The story begins as so many do, with a personal experience that flicked on a lightbulb. Nicole Armstrong was looking for a job and received an offer with a decent benefits package, but no mention of parental leave. She'd just had her daughter and wondered what would happen if she decided to expand her family at some point?
"Would I have time off? If I ask will they assume I was going to have another child right away?" she says of the situation many working women face: wanting to ask about maternity leave policies, but worrying that doing so might result in an opportunity slipping away. So, Armstrong decided she was going to start a program helping companies to do better—to invest in their employees long-term without focusing on gender. She would give organizations the tools to assess their policies and enact better ones where needed.
Armstrong's idea landed her a Haile Fellowship grant, which is designed to help the winner implement a community-building project. She used the grant in April 2018 to launch Queen City Certified, developing an equity confirmation process for participating businesses. With local companies including Fifth Third Bank and Cincinnati Bell already committed to not asking about prior salary, Armstrong sees a bright future in leveling the playing field with companies across the country.
QCC has a points-based system, similar to the LEED environmental standard, that sets businesses apart by demonstrating that they value diversity and are committed to inclusiveness. Also like LEED, there's accreditation swag: QCC-certified organizations get a "Leader in Gender Equity" seal for use on their website and in marketing materials, as well as a listing on the QCC website.
But QCC is more than badges and bragging rights; the certification itself requires thoughtful self-assessment and work, which can remake a company. The process takes three months and includes an anonymous organization-wide survey, a gender/race pay audit, an employee listening session, and three collaborative learning sessions. Participants also develop an action plan to roll out updated gender-inclusive policies.
The two-year certifications, which include Silver and Gold levels based on a variety of benchmarks, have resulted in 11 organizations obtaining certification, including Freestore Foodbank, The City of Cincinnati Human Resources department, The Cincinnati Zoo, Cincinnati Symphony Orchestra, Findlay Market, Children's Home of Northern Kentucky and others, with four reaching Silver status (Girl Scouts of Western Ohio, Public Allies Cincinnati, Urban Artifact and PEP).
Armstrong marvels at how many businesses and groups have embraced her idea and worked to create more inclusive environments. "If I have a choice to work at this organization that is certified versus one that is not, maybe I'll choose the first one," says Armstrong. "That's what it's all about: giving time and space for these organizations to assess what they're doing well and figure out what they can do better."
Scott Hand, chief of organization for craft brewery Urban Artifact, says that the QCC Certification is a way for his five-year old company to reinforce their core beliefs. "We already held and had many of the requirements implemented, but it was great to hear the ideas explained and directed by the folks that they affect," he says. "We used the process to listen to our team and pull in the best practices from QCC to make our organization stronger."
After going through the QCC program, Hand says UA completely rewrote their employee handbook, instituting new interview guidelines and hiring procedures and equitable practices for time off and flexibility. "It's important to us, because we want to not only be a welcoming environment and 'brand' for our customers and guests, but actually have our staff be a full representation of that concept." Now, his goal is to be Gold Certified by 2021.
Talking about gender equity is easy, but putting it into practice is harder because it requires not just changing individual behavior, but looking deeper at the systems that are in place and committing to more lasting change. "We always encourage organizations to take a more holistic approach to gender equity—it's not a silver bullet, but a great step in the right direction—and if they can't depend on salary history, then dig deeper into other factors and judge the value of that role based on the market value versus the person filling that role," Armstrong says. "That leads to more robust hiring practices, which we are always supportive of."
The city of Cincinnati's HR department is proud to be on the QCC certified list because it "illustrates that we have the basic essentials of a solid foundation for equity in the workplace," says employment and training supervisor Lisa Auciello. "We are also delighted to be certified from a talent acquisition perspective." She hopes the achievement will attract talent who will know they're welcome and respected, but also help to retain current employees who will recognize that the department is a "great work environment where they can be themselves."
Among the efforts the HR deptartment has instituted are an equal Partner insurance option and revised maternity leave to include both parents of the child. And they have begun the process of changing the language in their policies to use more gender-neutral terms. "Participating in the QC program was a great process to see our organization from an external perspective. It provided us clear guidelines on tightening up what we already do, as well as procedures to develop further and techniques to sustain an equitable work environment," she says, adding that one department created an Employee Resource Group for Women that specifically works to improve working conditions for female employees and review current policies.
In addition to empowering the department's staff to generate and implement new ideas, Auciello says the efforts have the potential to boost job satisfaction while instilling pride, increasing productivity, reducing sick time, and creating a "healthy vibrant workplace that others want to be part of."
"We're willing to work with anyone and our goal is to become a national presence," Armstrong says of her plans to grow QCC.
"We started with a regional approach because we know our needs regionally," she says. "But we're definitely exploring how we can scale things while keeping a community-based model.
Learn more about diversity and inclusion in Cincinnati especially in regards to gender equality in the workplace.
Written by Gil Kaufman.