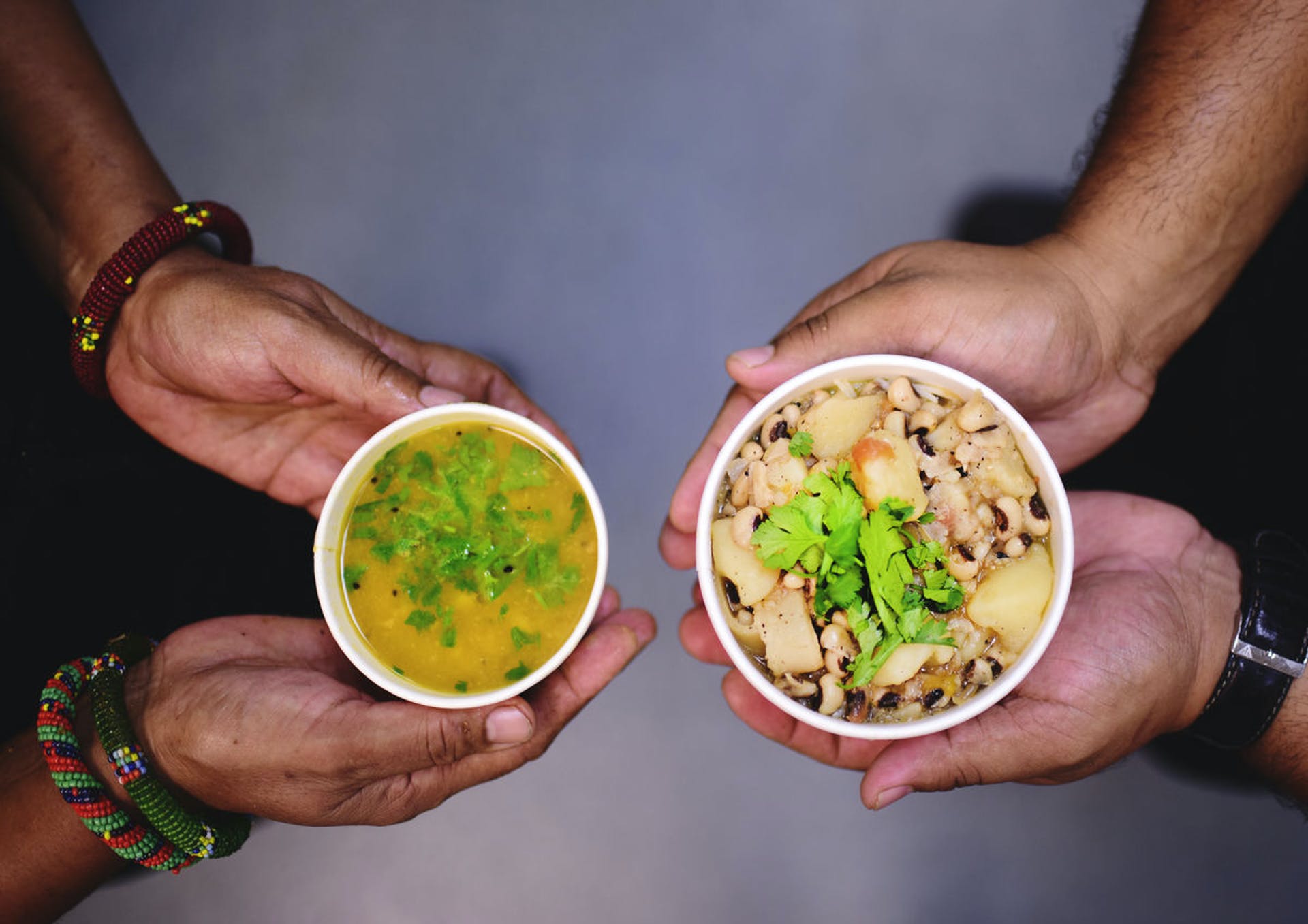 Ash Chipalu has always loved his mother's cooking. Today they cook together at their restaurant, Bridges.
Ash Chipalu has always loved his mom's cooking. He used to bring samples of his mom's original Nepali recipes with his lunch to share with his friends and coworkers at the various restaurants he worked at during his time in school. The food was always a hit.
When Chipalu moved to the States from Nepal, he originally went to school for nursing. However, he always wanted to have a business of his own one day. After the 2015 earthquake in Nepal, Chipalu's father and mother joined him and his brother in Cincinnati. It was not long after that Chipalu had the idea to open a family business to share the unique taste of Nepali food (which you can't get anywhere else in the city, by the way).
"I really believed in my mom's cooking and her recipes," Chipalu says. A belief which was confirmed time and time again by those who would get to sample his mother's meals.
In 2015, Bridges Nepali Cuisine was officially started, and it was a family affair. Ash's mother, Rose, does the recipe development and cooking. Ash had lots of experience working in restaurants, so he could run the business side of things. His father, Manoj, has a financial background, so he covers finances and investments. His brother Avash, who ran a bar in Nepal, will soon be in charge of concocting some unique cocktails (as soon as they get their liquor license!) to go along with the Bridges menu.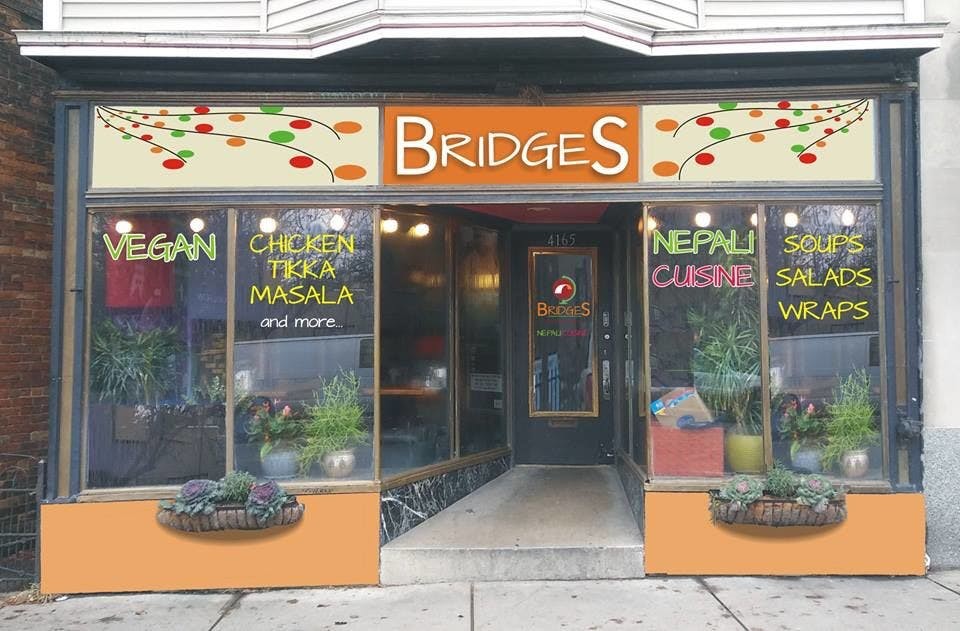 Nepal to Northside
As soon as Ash and Rose began cooking up their Nepali recipes for Cincinnatians, the people immediately loved them. The two started as a stand at Findlay Market, Ohio's oldest continuously operating public market and a Cincinnati staple. As they grew in popularity, they expanded to other farmer's markets throughout the week like Madeira, Northside, and Fountain Square.
Then in 2016, while at the Northside Farmer's Market, the landlord of their current restaurant building tried their food and loved it. Ash says, "He liked our concept, we liked his space, and it just clicked!" Soon enough, they found themselves settling into Northside with their first storefront.
But this isn't the only reason Ash and his family decided to establish their restaurant in Northside. They already had a good feel of the community from being at the farmer's market for several months, and Ash compares the culture in Northside to that of Nepal. "Northside is a very relaxed neighborhood," he says. "The people are very laid back and it matches the mood of back home. It's a homey atmosphere, where everyone knows everyone. It's very artsy, and there are a lot of different characters. It's a very chill neighborhood and it reminds me of home."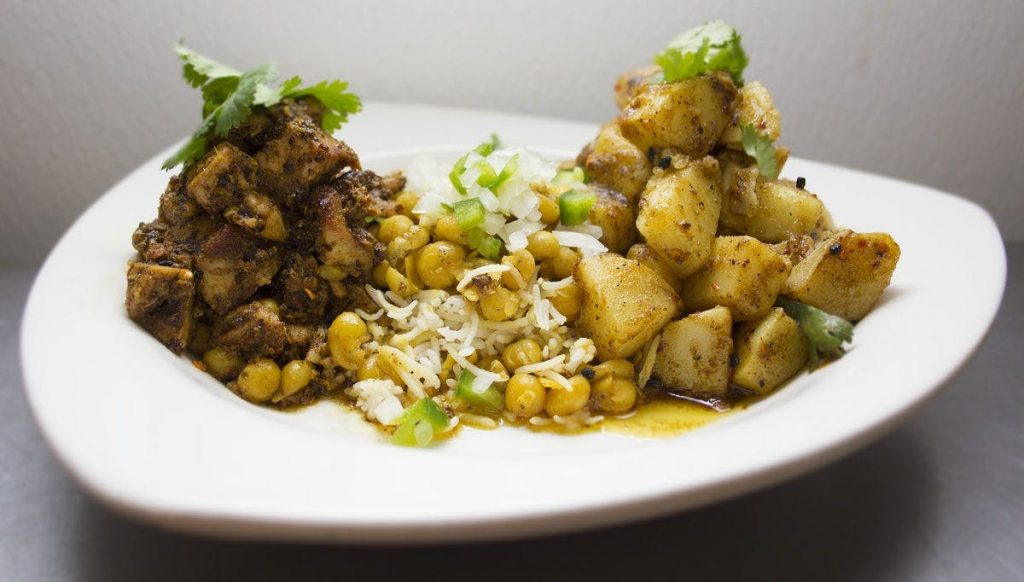 Fast And Casual Hospitality
The vision of Bridges to "connect through food." Ash says he and his family "are here with a really different concept, with different food, just trying to connect with people and make them experience something they've never experienced before." Bridges does this in a number of ways.
One, the restaurant is fast casual, meaning all the food is right there in front of you, made from fresh, local, raw ingredients and all based on Rose's recipes. You can order, sit and enjoy your meal, eat and leave quickly, or take your food to go.
Despite the ability to get your meal quickly, Bridges is very intentional and welcoming. In fact, the Chipalus take hospitality very seriously; it is the foundation of their business. Ash says that to people from Nepal, hospitality is paramount. "We have to give the best service and the best respect," he says. "Hospitality is very, very important to us; it is born in us. That's what we're trying to bring to the restaurant and give to every customer."
Food is a close second in importance. "It's a big part of our culture. When we meet someone, the first thing we do is ask if they have eaten or not," Ash remarks.
Lastly, the Bridges sampling experience is what gets most people hooked. After all, many people have never actually tried authentic Nepali food before. But Ash says he and his family know you will love it when you try it, so as their guest, they let you sample whatever you want when you visit.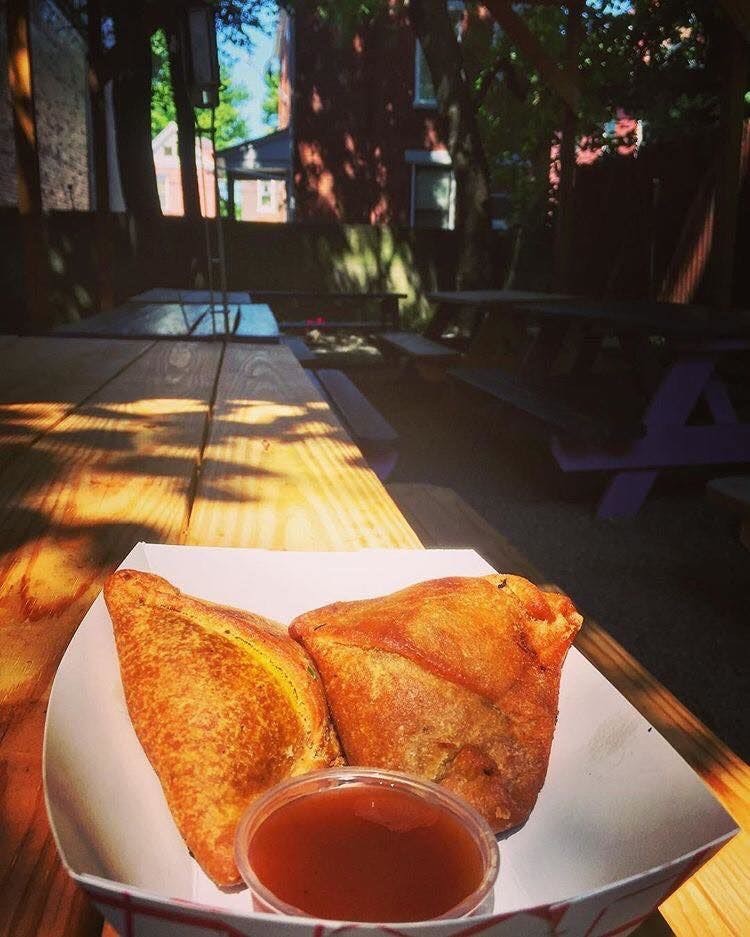 Something For Everyone
So what is Nepali food like, anyway? Ash says that many people mistake Nepali food for Indian, "but there are a lot of differences. From the spices we use to how we cook it, it's much more flavorful, I think, in a lighter way. It's not as heavy as Indian food."
Rice is a staple food in Nepal; everyone in the country eats it at least two times a day. So you'll find that most of the meals contain some kind of rice, along with lentils or peas and a type of meat. They also have greens with every dish and have salad bowls available as well. Ash says Nepali people also enjoy a lot of marinated sides, such as black eyed peas or potatoes. "Nepali food is very balanced," says Ash, which is important since many of Northside's residents are vegan. "We have meat, but we also have a lot of vegan and vegetarian dishes."
There is also a staple food in Nepal that Ash says he continually gets requests for. Momos, a spicy chicken or pork-filled dumpling served with a roasted gravy sauce, is a really popular street food that you can find everywhere in Nepal. Ash says people are always asking for momos, and they do plan to add it to their menu soon!
Despite its short history so far, Bridges Nepali Cuisine has become one of the more popular restaurants in the neighborhood. It is people like Ash, Rose, and their family who make Cincinnati what it is, giving us something new and different to experience, adding to the city's collective character. When asked what his favorite part about living in Cincinnati is, Ash says, "Oh, just the vibe! The people! Everyone is so friendly, and we really appreciate them." Cincinnatians appreciate you too, Ash. Thanks for bringing a piece of Nepal home to Northside.
Today, you can find Bridges Nepali Cuisine in Elmwood and Downtown as well as Northside.
(Updated by Anastasia Mileham, May 4, 2023) Abigail Davidson is a writer and entrepreneur who loves Cincinnati. You can visit her at abigailrdavidson.com or say hi on Instagram at @abigailRdavidson.
All photos provided.