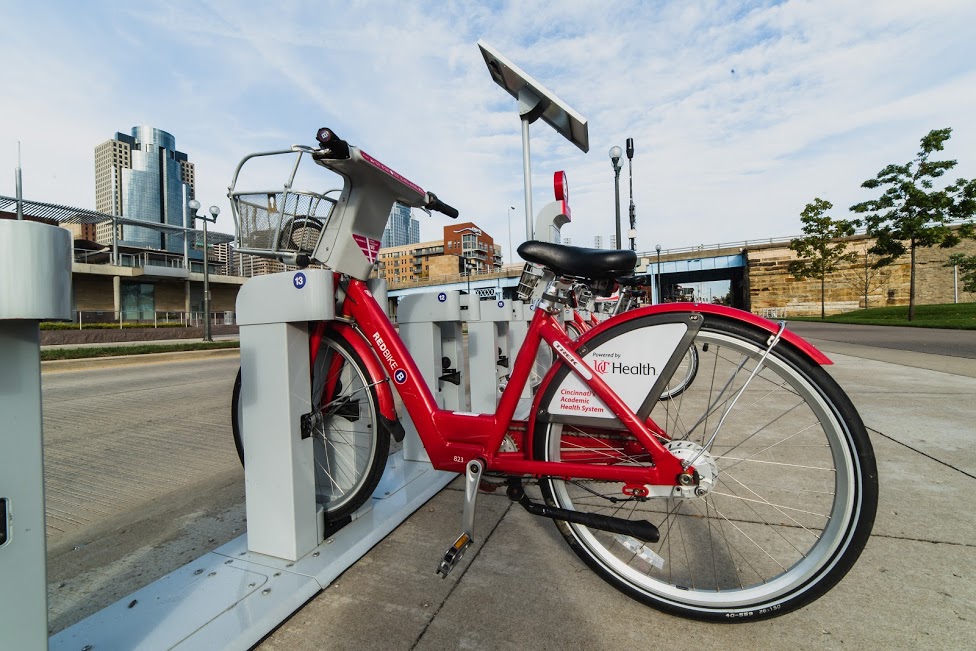 Red Bike is Cincinnati's only bike sharing system and the only one in the country that crosses state lines. Let's ride.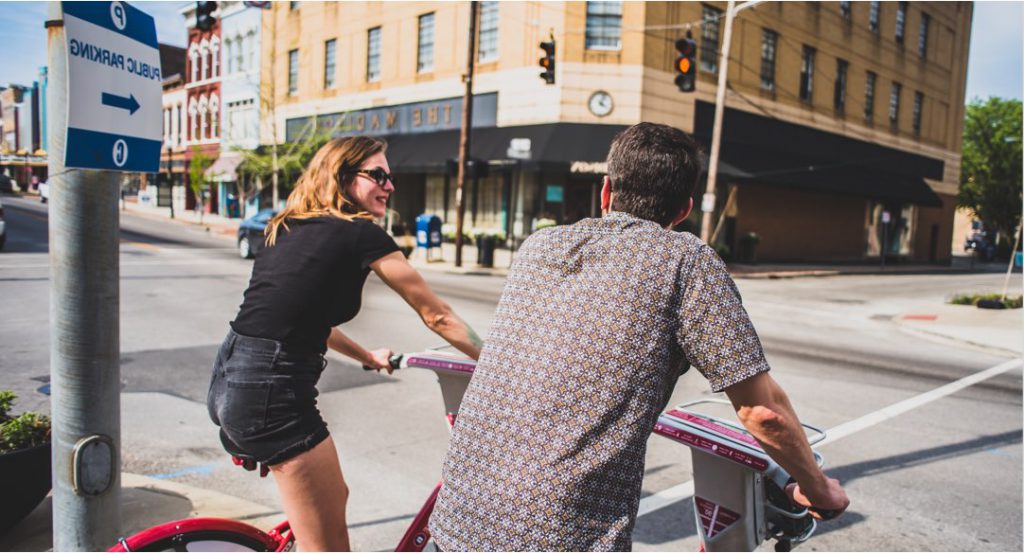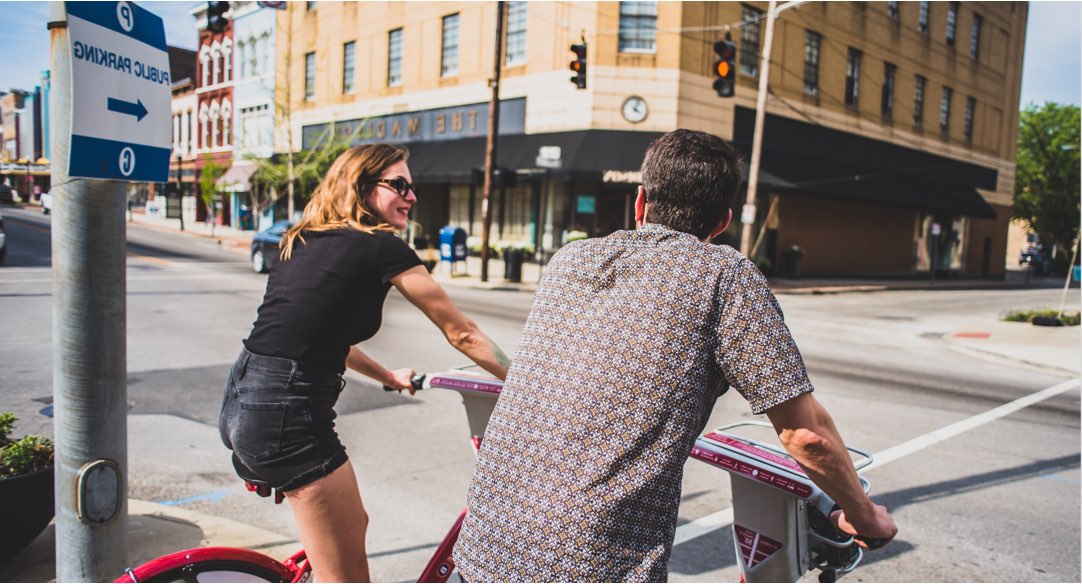 Cincinnati Red Bike sharing system includes 442 bikes and 57 stations in Cincinnati and Northern Kentucky, making it both easily accessible and also a convenient way to explore the city.
You can rent a Red Bike for $8 (for 24 hours) or $80 (for a one-year membership). You also can use your membership card in other cities that participate in B-cycle.
You've got three short trip ideas for you, all beginning at Smale Park, one of the Cincinnati's most popular parks. Check out these safety tips from St. Elizabeth Healthcare and you're ready to ride.
Starting Point: Smale Riverfront Park
Smale Riverfront Park on the Cincinnati banks of the Ohio River is the definition of bike-friendly. It has paved pathways with great river views, several Red Bike stations and its own Bike Center. The park's main staircase includes a bike "runnel," which allows bikers to roll their bikes up or down the steps.
One Red Bike station is located on the lower level of the park at 5 West Mehring Way. Beyond the upper level of the park, in between Yard House restaurant and the National Underground Railroad Freedom Center, there is another station at Freedom Way and Walnut Street.
Now that you have your bike, let's go!
Route 1
Destination: Cruise between parks – Smale to Theodore M. Berry International Friendship
Distance: About 2 miles; mostly flat
Head east on the bike trail at the foot of the park. You'll see Moerlein Lager House and Great American Ball Park on your left. Next, Yeatman's Cove and the Serpentine Wall. Look up, and you'll see the Purple People Bridge that connects Cincinnati and Newport, Kentucky. Stay on the path and you'll pass through Sawyer Point and Yeatman's Cove. You'll know you are on the path right when you spot Cincinnati's famous rib restaurant, the Montgomery Inn Boathouse.
Then, you'll arrive at beautiful Friendship Park, small but mighty, with its inventive landscaping representing five continents and sculptures. Grab a few pictures before you head back to Smale Park.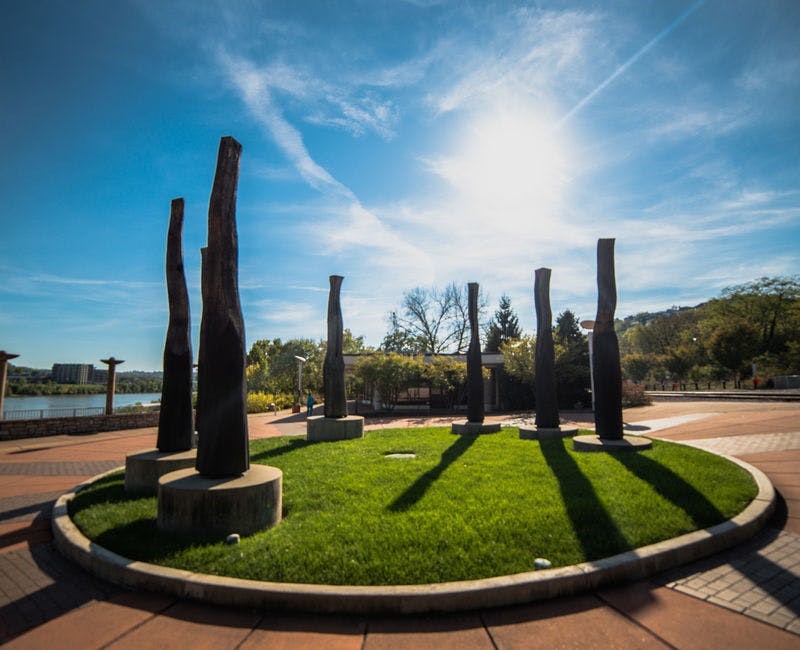 Once back. Dock your bike and walk through the Great American Ballpark plaza and then grab something to eat or drink in The Banks neighborhood. Popular spots include: Taste of Belgium, Moerlein Lager House., Pies & Pints and The Stretch.
Route 2
Destination: Holtman's Donuts in Over-the-Rhine
Distance: Just over 1 mile; mostly flat
Head east from the Red Bike station at Freedom Way and Walnut Street and turn right on 2nd Street. Turn left on Main Street, and ride to 13th Street in Over-the-Rhine. Make a left on 13th, a right on Vine, and park at the Red Bike station at 1412 Vine Street.
Holtman's is steps away at 1332 Vine Street. Grab one of their famous donuts and take a stroll around Over-the-Rhine. You'll find shops, restaurants, and other spots to step inside for a cold drink. You can pick up something at one of the many boutiques on Vine St. — your Red Bike has two baskets!
There are several nearby Red Bike stations to get you back to Smale Park.
Three nearby locations: – 1384 Elm Street,
– 1208 Vine Street, and – 1412 Vine Street.
Bonus stop: New to the neighborhood, Brown Bear Bakery at 116 E. 13th Street, is more than worth a stop if your sweet tooth is craving more pastries.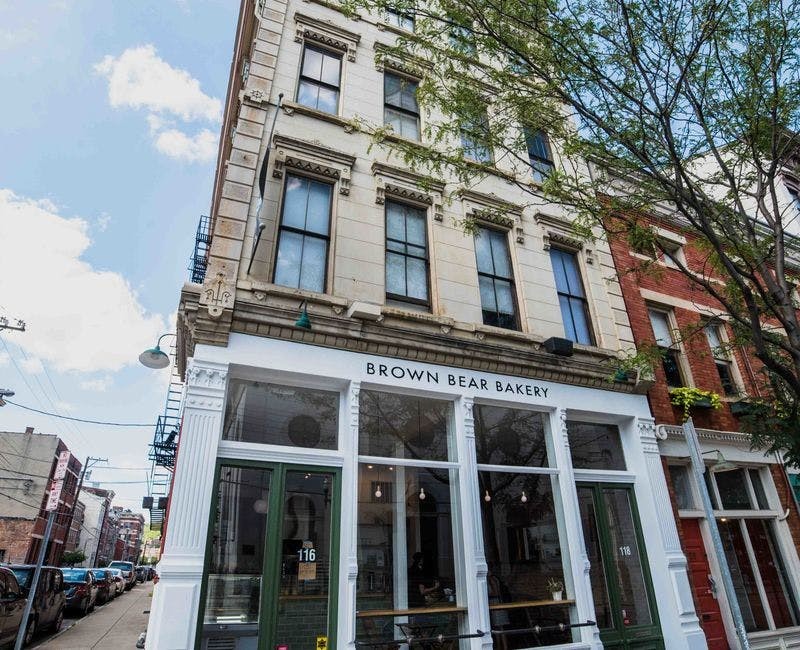 Brown Bear Bakery is at 13th and Clay Street in OTR. | Louis Rideout
Route 3
Destination: Ride to Covington for Art & Architecture
Total distance: About 4.5 miles; mostly flat with a few hills
The prototype to the Brooklyn Bridge, the John A. Roebling Suspension Bridge gets you from Smale Riverfront Park to Covington, Kentucky's Riverside. Ride across the bridge and wrap around to historic Riverside Drive. Enjoy the scenery and historic 19th century architecture. At the end of Riverside Drive, ride to the right (warning: hill) and turn onto 2nd Street. Take 2nd to RiverCenter Boulevard, past the Northern Kentucky Convention Center, until you come to 4th Street. Turn right on 4th and take a quick left on Main Street.
Here, you'll see the first of several murals on this route. Just before 6th Street on Main, you'll see Jimi Hendrix. Continue up Main to the corner of 7th and Main. Turn around — do you see Andy Warhol? You're in MainStrasse Village now, a historic 19th century town center that is emerging with new restaurants and bars. You can dock your Red Bike at the 6th and Main station and walk around, or stop for a bite to eat at Cock & Bull or soft serve ice cream at Piper's Cafe.
Head back to Cincinnati and catch one more modern-art mural on the way. Go east on 6th Street away from MainStrasse. Take 6th to Madison Avenue, and go left. Covington's one-way streets take you in circles, but it's worth it. Take Madison to 3rd Street, and go right. Turn right on Scott Street, and behold the mural at 4th and Scott.
The mural has an interesting history; it started as a little piece of graffiti by famous Amsterdam-based artists The London Police on a mostly abandoned building. Today, it's a full-fledged, full-color mural that sits on a building housing brand-new townhomes.
Bike up to 5th Street and take a left. Turn left again at Greenup Street, which will take you back down to the river and Roebling Bridge. Ride across to Smale Park and you're back where you've started.
Thanks to Cincy Red Bike, you just exercised, saw some of Cincinnati's unique sights, and had a taste of the Cincinnati region — cheers to that!
Writer Bio: Heather Churchman, freelance writer, information lover, and firm believer in finding fun wherever you are.
Published August 1, 2017