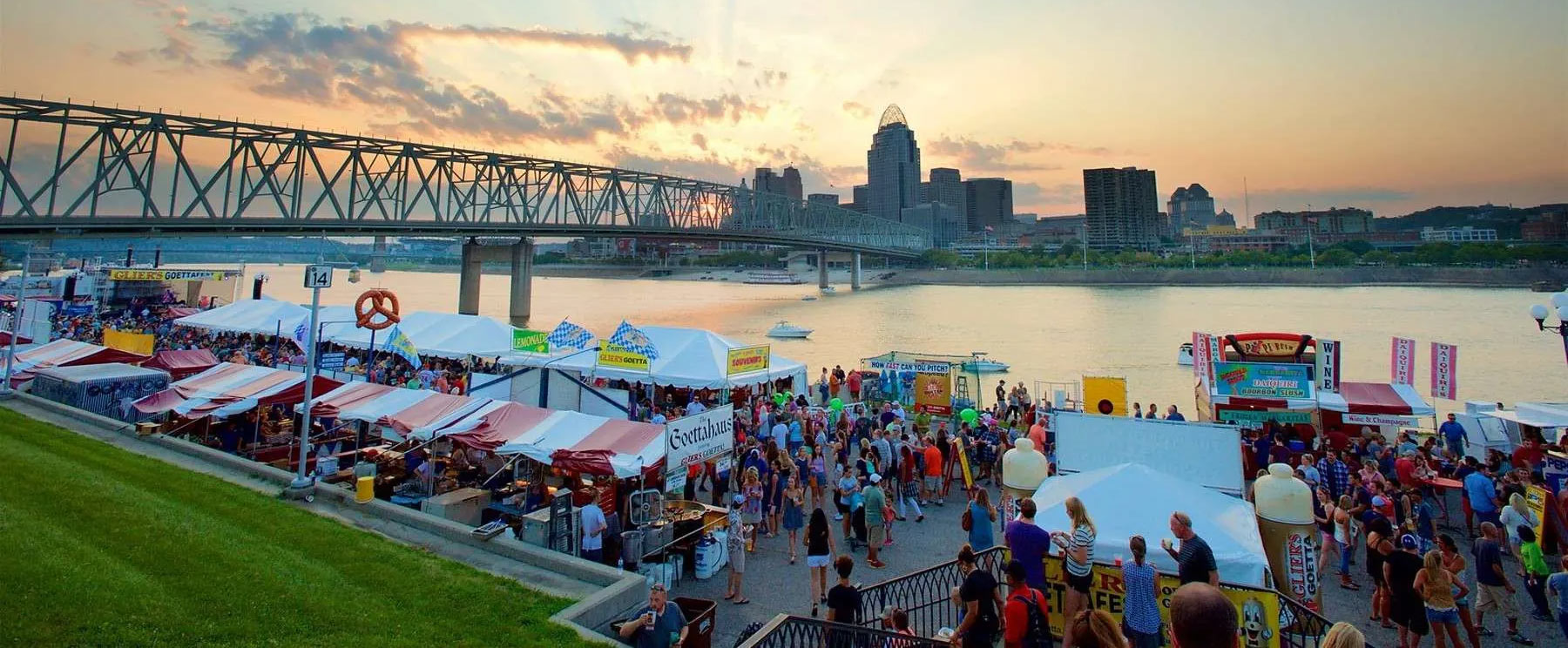 GOETTA: THE TRUE CINCY DELICACY
Got Goetta? In Cincinnati, you'll find this unique food featured in several of the region's hottest new restaurants. Let's talk about what Goetta really is, and then we'll talk about Cincy's must-try dishes if you want to enjoy Goetta in style.
YOUR GO-TO GOETTA GUIDE
GOETTA 101: WHAT IS IT?
Goetta is a German-inspired sausage-and-grain mixture that—when cooked just right—is crispy, flavorful, and spiced to perfection. In Cincinnati, it's considered part of a great breakfast; fry it up, serve it with eggs and toast, and you'll have a great meal to enjoy. Goetta can be found in grocery stores in the Cincinnati and northern Kentucky area, as well as several area family farms.
WHY GOETTA?
Cincinnati has a strong German heritage, which gave us the gift of Over-the-Rhine (OTR), and, of course, Goetta! When German immigrants first settled in what is now OTR, most families had relatively small food budgets. They needed to get creative, so they asked local butchers if they could have leftover scraps. From these inexpensive cuts, people created Goetta, a grain-and-meat dish that reminded them of their comfort foods back in northern Germany. And we've been eating it ever since. Although it may seem like an odd combination of foods to get excited about, Goetta is packed with fiber, calories, and flavor. It's a delicious way to get a lot of energy in one fell swoop, for a relatively low price.
WHERE CAN YOU FIND GOETTA?
Goetta is on the menu at many breakfast restaurants in the Cincinnati area. You may also be able to find it in the refrigerated meat section (next to the breakfast sausage) at local grocery stores. However, the best place to find fresh goetta is to go to the source! You can pick up incredible goetta at Findlay Market (more on that below) as well as Avril Bleh Meat Market, Finke & Sons, Wassler Meats, and Humbert's Meats. Stehlin's Meats offers goetta with offal mixed in for more flavor, and a spicy-hot version as well for the more daring goetta enthusiasts out there! And if you're looking for a mail-order solution, you can check out Glier's, a large commercial producer of all things Goetta.
HOW TO COOK GOETTA
When you're cooking Goetta, whether you're making a Goetta-lettuce-tomato sandwich or breakfast for a crowd, there are two foolproof tips you need to remember. First, slice your Goetta thickly. You'll want each patty to be at least half an inch thick. Otherwise, you run the risk of crumbly Goetta pieces (which would still be delicious, but more difficult to handle). Second, skip the oil. Simply heat up a dry, non-stick pan, and then fry your Goetta on both sides for about 4-5 minutes each. Serve immediately.
CAN'T-MISS GOETTA DISHES IN THE QUEEN CITY
Don't feel like sourcing and cooking your own goetta? Cincinnati restaurants have you covered. Here are our top ten goetta dishes available around Cincinnati restaurants. Which ones are you interested in trying?
CINCINNATI GOETTA DISHES, RANKED
#1: B&A STREET KITCHEN'S GOETTA-UP-AND-GO WRAP
Available at B&A Street Kitchen, the Goetta-Up-And-Go Wrap is a Tex-Mex inspired Goetta breakfast wrap (or biscuit sandwich). It comes with fried tomatoes, pepper jack cheese, and eggs done the way you please. B&A Street Kitchen is located on Race Street in OTR.
#2: GREYHOUND TAVERN'S GOETTA EGGROLLS 
If you're looking for a unique twist on a traditional offering, look no further than the Goetta Eggrolls on the menu at the Greyhound Tavern. This Thai-inspired dish features eggrolls stuffed with cabbage slaw and goetta. Be sure to ask for chili sauce on the side! The Greyhound Tavern is located just across the river, in Northern Kentucky.
#3:
IZZY'S GOETTA REUBEN 
Corned beef, sauerkraut, thousand island dressing, and rye bread: A regular Reuben sandwich is a treat any day of the week, but, at Izzy's, this deli staple gets a Cincinnati twist. Order their Goetta Reuben with Swiss at any of Izzy's Cincinnati and Northern Kentucky locations.
#4:
TICKLE PICKLE'S GOETTA VAN FLEET
Homemade macaroni and cheese – with added goetta? That already sounds like enough, but the team at Tickle Pickle (a Northside restaurant known for incredible burgers) decided to add crushed barbecue chips on top for a textured, sweet, and spicy treat that can't be beat.
#5: FRENCH CRUST CAFE'S PUFF PASTRY WITH GOETTA
If you're interested in seeing what a French-inspired take on a goetta dish is, head to the kitchen of Chef Jean-Robert de Cavel: French Crust Cafe, located near Findlay Market. While the chef has created unforgettable menus for dinners and desserts, today we're shining the spotlight on French Crust Cafe's breakfast menu. Order their Puff Pastry with local Goetta, which comes with a poached egg, piperade, and hollandaise sauce.
#6:
SLEEPY BEE CAFE'S QUEEN CITY BEE
Good news: Whether you're a carnivore or vegetarian, you can still find goetta-inspired dishes that offer the same traditional Cincinnati taste and feel. Just check out Sleepy Bee Cafe's vegan goetta dish Mushrooms Run the World, a multigrain toast sandwich with vegan goetta, ginger pickles, and chimichurri. For those seeking traditional goetta, the Queen City Bee is a classic. It's a savory-sweet dish with goetta, apples, and nectar sauce—completely delicious.
#7: GRAMMA DEBBIE'S GOETTA CASSEROLE
If you're looking for the perfect warm, ooey-gooey dish to pair with a cozy weekend, pick up a goetta casserole from Gramma Debbie's. Their casserole includes hashbrowns, house-made goetta, eggs, milk, cheese, and more. If you're so inclined, Gramma Debbie's also offers a vegetarian goetta casserole with Daiya cheese, vegan goetta, tofu cream, and 100% of the same taste and comfort.
#8: GOOSE & ELDER'S GOETTA HASH
At Goose & Elder in Over-the-Rhine, you'll find a variety of fresh, seasonal dishes featuring local ingredients. During weekend brunch, that includes a hearty Goetta hash, replete with mozzarella, onion, gravy, eggs, and potatoes.
#9:
TOAST & BERRY'S BREAKFAST MAC AND CHEESE
Brunch is always a good idea, say the breakfast-all-day aficionados at Toast & Berry. After looking at their menu, we're inclined to agree. Whether you're looking for sweet French toast or something savory, Toast & Berry has your back. We find the Breakfast Mac & Cheese to be a particularly good idea: It comes packed with scallions, smoked gouda, and goetta. Next time you're in Montgomery, be sure to give it a try.
#10: BLUE JAY RESTAURANT'S GOETTA, LETTUCE, AND TOMATO
We'll end this ranking on a classic: At Blue Jay Restaurant, a Northside diner that's been serving its community for over 50 years, order the GLT for a Cincinnati spin on a traditional deli sandwich. Blue Jay Restaurant's been featured as a shooting location in several big-budget movies, so look around carefully while you're there to see if anything looks familiar!
FINDLAY MARKET
If you're looking for a truly unique-to-Cincy experience, head to Findlay Market and pick up Goetta of your own! Findlay Market, an iconic outdoor market, known for its unique, diverse eats, is also where you'll find local farmers selling freshly-made Goetta. Stop by and see if you can find seasonal Goetta flavors, experimental batches, or crowd faves before they sell out! Our recommendation has to be Eckerlin Meats. Ask the butcher for his recipe—we know that his Goetta contains steel-cut oats, beef chuck, and pork shoulder, and his family's secret seasonings, but no one's been able to figure out quite what those are!
CINCINNATI'S ANNUAL GOETTAFEST
Wanna try 'em all? You can! Each year, along the riverfront in downtown Cincinnati, local businesses turn out in spades to feature their fave Goetta recipes celebrating this unique ingredient. (Our personal pick is a Goetta mac-and-cheese with extra hot sauce.) Head here to see when Cincinnati is holding its next Glier's Goettafest so you can get those dates on your calendar now.