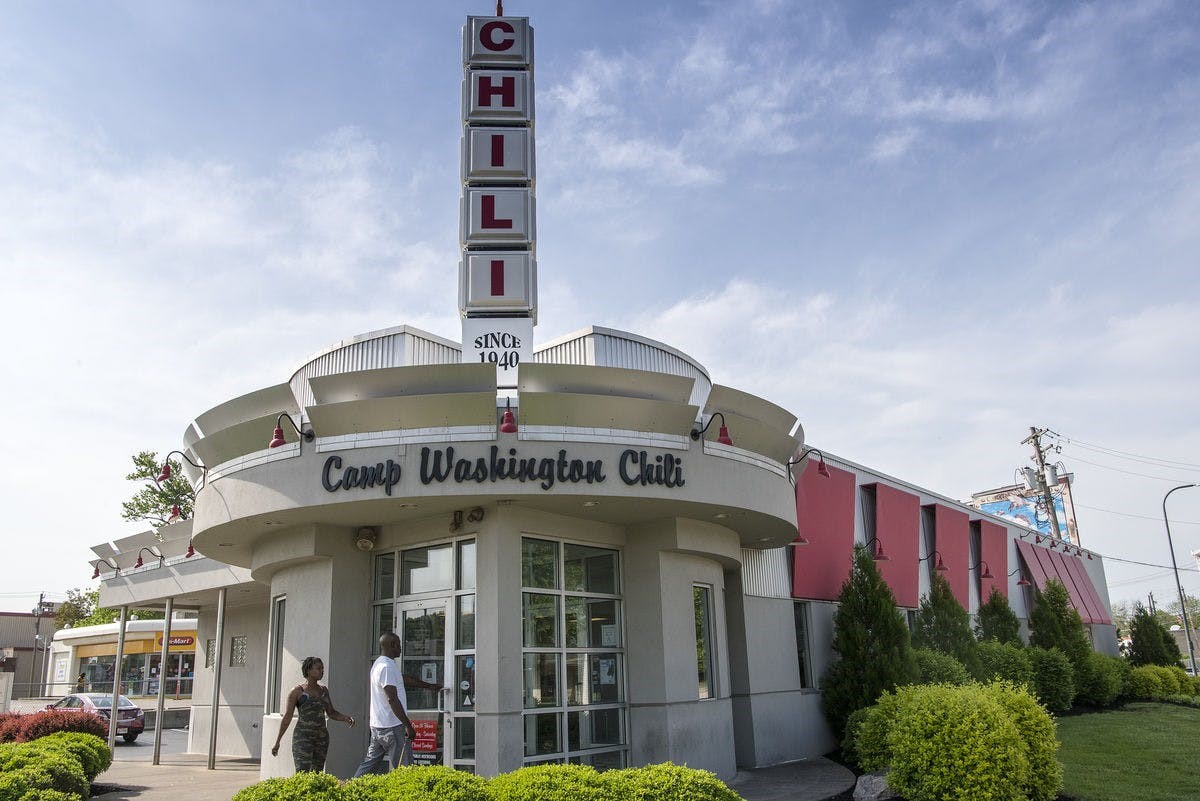 Cincinnati chili is a point of civic pride, but it's also an enduring mystery to many non-locals. Here's our list of five neighborhood Cincinnati chili restaurants that will help you understand what all the fuss is about. They all have their own take on this classic, quirky Queen City delicacy.
No two parlors are alike, but they all have some combination of these features: A menu of chili, double-deckers, Greek foods, and breakfast. The chili setup goes a little something like this: A Two-Way is spaghetti topped with chili, the Three-Way piles on shredded cheddar cheese, the Four-Way throws in chopped onion, and the Five-way adds beans. And then there's the coney, which tops a hotdog with mustard, chili, onions, and cheese. The chili recipe itself varies from parlor to parlor, but it's always a spiced, savory, Mediterranean-inspired meat sauce. Oyster crackers and hot sauce are necessary add-ons, and regulars know that you always have a York Peppermint Pattie on your way out the door.
Intrigued? Take a look at our neighborhood chili parlors: They're how many locals themselves were introduced to Cincinnati chili, and most of us have fierce loyalties to our hometown counter.
1. Camp Washington Chili
Camp Washington Chili has been slinging coneys since they opened in 1940. In 2000, the restaurant built a shiny new 1950s-style diner just a few doors down from their original location. That same year, Camp Washington Chili won an "American Regional Classic" James Beard Foundation Award. And you can go just about any time: They're open 24-hours-a-day, six days a week (closed Sundays). 3005 Colerain Ave., Camp Washington, (513) 541-0061, campwashingtonchili.com
2. Dixie Chili
Our only Kentucky parlor on this list, Dixie Chili is as also one of the oldest in the region. Opened in 1929 in Newport, the storefront shop has a deli and a menu of gyros, but the chili is the star of the show.
If you've made your way over to Kentucky for the day, stick to the south side of the river for a great taste of Cincinnati-style chili. Multiple locations, dixiechili.com
3. Chili Time
This St. Bernard chili parlor has been holding steady since they opened in 1963. Stop in for a coney or a slice of pie, and people-watch the regulars streaming through all day. 4727 Vine St., St. Bernard, (513) 641-1130, Facebook
4. Pleasant Ridge Chili
You'll feel like you've stepped right into Mid-Century America when you visit this Cincinnati chili restaurant, which opened in the Pleasant Ridge neighborhood in 1964 and hasn't changed much since. There's a full complement of chili dishes, plus double-decker sandwiches, hamburgers, and breakfast items. But many regulars go straight for the gravy cheese fries. 6032 Montgomery Rd., Pleasant Ridge, (513) 531-2365, pleasantridgechili.com. Cash only.
5. Blue Ash Chili
Two words: Chili Lasagna. If you want a parlor that does its own thing (or you have a chili naysayer in your crowd), try this suburban spot. Opened in 1969, Blue Ash Chili has evolved to serve a little bit of everything, from the classic double-deckers, burgers, and breakfast dishes to specialties like pulled pork and chicken and waffles. Multiple locations, blueashchili.com
Want to learn more about Cincinnati food and bars?