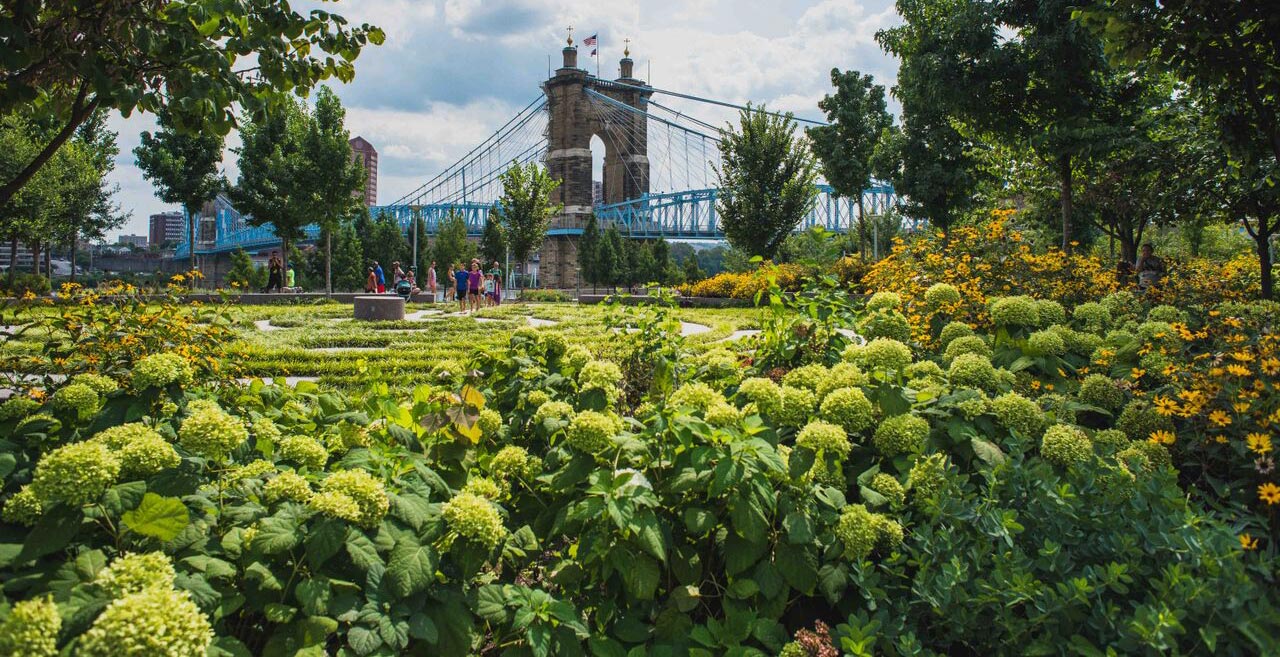 MUST-TRY CINCINNATI OUTDOOR ACTIVITIES 
Ready to explore the great outdoors? The Queen City has all you need for an incredible weekend soaking up sunlight. Here's what you need to know about the best parks and outdoor activities in Cincinnati.
THE BEST CINCINNATI OUTDOOR ACTIVITIES
EXPLORE ALL THAT EDEN PARK HAS TO OFFER
Eden Park, a gorgeous green space near Mt. Adams and East Walnut Hills, is Cincinnati's hub for museums, playhouses, and more. Park once and enjoy access to several different must-see Cincinnati outdoor activities—and indoor ones, too—including the Krohn Conservatory, the Cincinnati Art Museum, and Cincinnati Playhouse in the Park. While each of those places is worth enjoying for a full day, don't skip an afternoon spent strolling through Eden Park itself. The park is brimming with picturesque walking paths, picnic shelters, lakes, gazebos, and fountains. Chances are you'll come across an impromptu soccer game or (in the evenings) a small live music event.
SEE YOUR FAVORITE ANIMALS AT THE CINCINNATI ZOO AND BOTANICAL GARDENS
You may have heard of Fiona, the world-famous baby hippo born and raised at the Cincinnati Zoo, but have you heard of Martha, the last living passenger pigeon, a bird that also called the Cincinnati Zoo home? The Cincinnati Zoo is known for its energy conservation efforts and species preservation, as well as its iconic Cincinnati festivals. In the Spring, the Zoo hosts unforgettable events such as Zoo Babies (adorable!). Come Winter, the Zoo transforms into a wonderland replete with Zoo Lights, a magical, musical celebration that's made for enjoying with hot chocolate. Year-round, the Cincinnati Zoo, the USA's 6th oldest zoo, is a go-to Cincinnati outdoor activity. With nearly 2,000 animals and 3,000 different types of plants on its premises, there's always something new to see.
TAKE A STROLL ALONG THE CINCINNATI RIVERWALK 
Looking for a walk that takes you across state lines? The Cincinnati Riverwalk offers you a chance to get your steps in while enjoying a beautiful view of the Cincinnati skyline. This four-mile urban hike is one of our favorite Cincinnati outdoor activities. The Riverwalk meanders through several iconic Cincinnati landmarks. You can select a few different places to begin, but our favorite is near Smale Riverfront Park and the Roebling Suspension Bridge. The path itself is well-marked and paved in most places, which makes it easy to navigate for runners, walkers, and large families alike. In addition to Smale Park, the Riverwalk wends its way through Sawyer Point, an historic park full of markers teaching you about the Cincinnati area. Finally, cross the Ohio River into Kentucky using the Purple People Bridge—and then take a break, you've earned it!
LEARN MORE ABOUT THE QUEEN CITY'S OUTDOOR ART WITH CINCINNATI MURAL TOURS
Keep your eyes peeled when you're driving downtown and you'll glimpse several incredible murals—from highlights on historic Cincinnatians to an entire side of a building with painted-on windows instead of real ones! This Cincinnati outdoor activity can take an entire afternoon. The professionals at ArtWorks are ready to take you on a tour or provide the materials you need to find murals on your own.
FLOAT DOWN THE RIVER AT GREEN ACRES KAYAK RENTAL 
There's nothing quite so idyllic as floating down a lazy river on a hot day—and, at Harrison's Green Acres, you and your friends can do precisely that. This Cincinnati outdoor activity is growing in popularity, and for good reason. You can take your family (everyone aged 12 and up) or group of friends on an 8-mile trip for a long afternoon. It's an upper body workout and a fun activity that will be the highlight of your summer!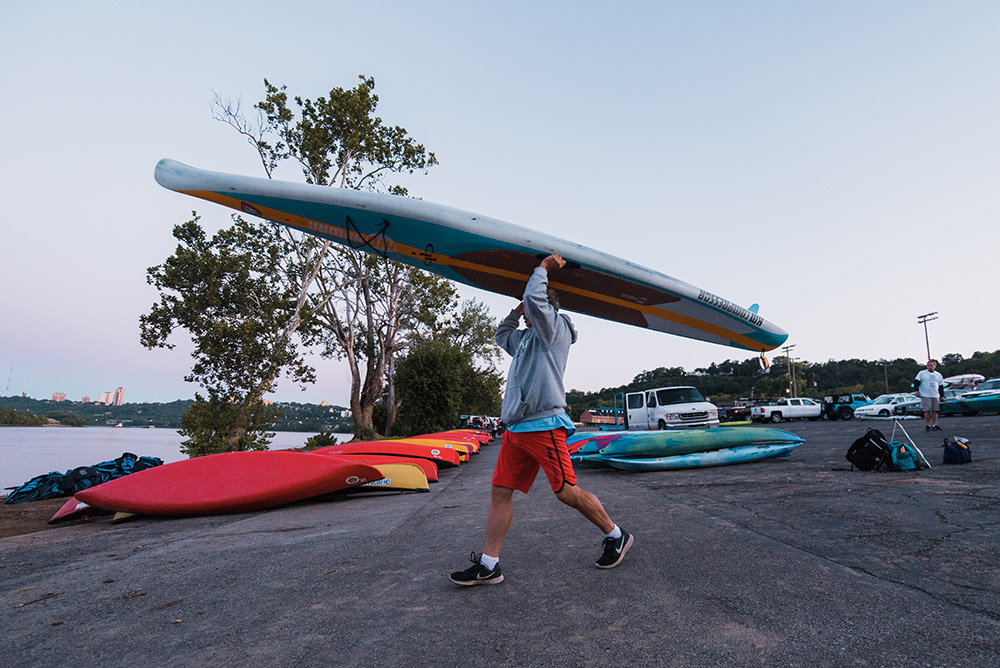 TAKE IN A CLASSIC FILM AT A DRIVE-IN THEATER
Although a drive-in theater may sound like a blast from the past, there are two operating drive-ins in the Greater Cincinnati area. And they're one of our must-do Cincinnati outdoor activities. Check out Holiday Auto Theatre if you live in the Oxford area, or grab a ticket for an unforgettable night at the Starlite Drive-In near Amelia. Drive-In theaters have enjoyed a resurgence in popularity recently, and, once you've gone to one, it'll be difficult not to see why. Each of Cincinnati's Drive-Ins allows you to step back in time, indulge in the themed retro decor and traditional concessions, and dig out that old boombox (or look up what that even means). Turn up your radio to pipe in the cinema sound, and see if you can catch a double feature at either the Holiday Auto Theatre or the Starlite.
SPIKE A BALL AT FIFTY WEST BREWING COMPANY
If you've driven down Wooster Pike recently, you may have seen the sprawling sand volleyball courts lining one side of the road near 50 West. What was once a brewery and beer place, 50 West is now full of Cincinnati outdoor activities. In summer, you can register to join sand volleyball leagues. In winter, go ice skating. And stop by for a post-trail bike ride to enjoy hot dogs, burgers, and crinkle-cut fries—along with Fifty West brewed specialties (including house-made root beer and orange soda for the kids!).
WALK THROUGH FINDLAY MARKET IN OVER-THE-RHINE
Cincinnati is home to many special outdoor attractions—and one of the most near-and-dear to Cincinnatians must be Ohio's oldest continually-operated open-air market. Findlay Market has been an integral part of OTR for nearly 170 years. It's the place for local farmers and merchants to sell fresh produce, bread, flowers, international foods, and more. (We dare you to say you aren't hungry, then walk through Findlay market's stalls; it's rumored to be impossible to walk through without at least buying some locally-made chocolate.) In addition to the unparalleled food options are the vendors selling locally-made art and home goods. Come to Findlay Market for one thing, and you'll leave with several, but each and every single one will be a unique, high-quality treasure.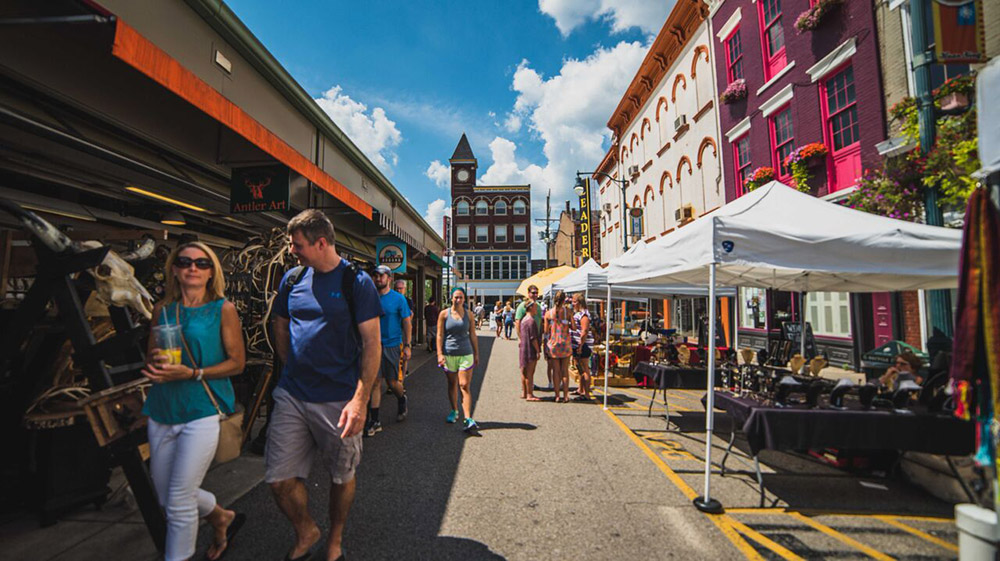 CHECK OUT THE COASTERS AT KINGS ISLAND
About 30 minutes north of downtown Cincinnati sits Kings Island, an amusement park featuring 100+ attractions, a water park, and fourteen roller coasters. This is one of those Cincinnati outdoor activities that everyone agrees on. Whether you're interested in the high-speed thrills of the Racer, want to experience the Giga Coaster, or are ready for the world's longest wooden coaster, The Beast, King's Island is here for you. Make memories with your friends and family while strolling down Kings Island's International Street, or come during one of Kings Islands' seasonal festivals (such as Halloween Haunt or Winterfest) to see the park take on a whole new personality. Our recommendation? Be sure to catch a ride on the Diamondback, a hyper coaster with a splashy finale!
TAKE IN AN OUTDOOR SHOW WITH SHAKESPEARE IN THE PARK
The talented actors in the Cincinnati Shakespeare Company brighten every summer in Cincinnati with a lineup of Shakespeare plays located in many beautiful destinations across the greater Cincinnati area. Past productions have included Romeo and Juliet, a Midsummer Night's Dream, Twelfth Night, and Macbeth. These plays are free for all to enjoy, although donations are accepted and appreciated. Depending on the venue—whether it be a vineyard, a park, or an outdoor amphitheater—there may be specific food, drink, and other attendance policies (check the Cincinnati Shakespeare Company's website for venues, times, and other details.) Shakespeare in the Park is a warm-weather Cincinnati outdoor activity, with shows happening almost nightly during the summer months.
LISTEN TO A LIVE CONCERT OUTDOORS AT THE RIVERBEND MUSIC CENTER
Enjoy live music and performances, but don't love sitting in a chair or standing in one spot for several hours? At the Riverbend Music Center, you can dance to the music, lay down and look at the stars, and even enjoy a picnic meal while you listen to performances from a diverse lineup of artists. Riverbend hosts everyone from the Cincinnati Symphony Orchestra to Alicia Keys, Jimmy Buffet, Maroon 5 and The Zac Brown Band. You can see a full list of upcoming events and purchase tickets on the Riverbend Music Center website. Recently, Riverbend renovated its pavilion to make the viewing experience from the lawn even better, so even though you're seated on a grassy knoll, you also get the full experience of a high-quality concert no matter where your lawn seat happens to be.
RIDE YOUR BIKE DOWN THE LOVELAND TRAIL
North of Cincinnati in the quiet Loveland area is a 70-mile bike trail meandering alongside the Little Miami River. The Loveland Bike Trail is paved, flat, and a great way to exercise and enjoy some of the traditional sights and attractions in Loveland and beyond. Take one trail and, between peaceful biking stretches, grab an ice cream at Loveland Dairy Whip, or stop in at the Loveland History Museum. Wrap up your day at Narrow Path Brewing. Bike rentals are available seasonally just near the Loveland Bike Trail, so there's no need to even own a bike to take advantage of this quintessential Cincinnati outdoor activity.