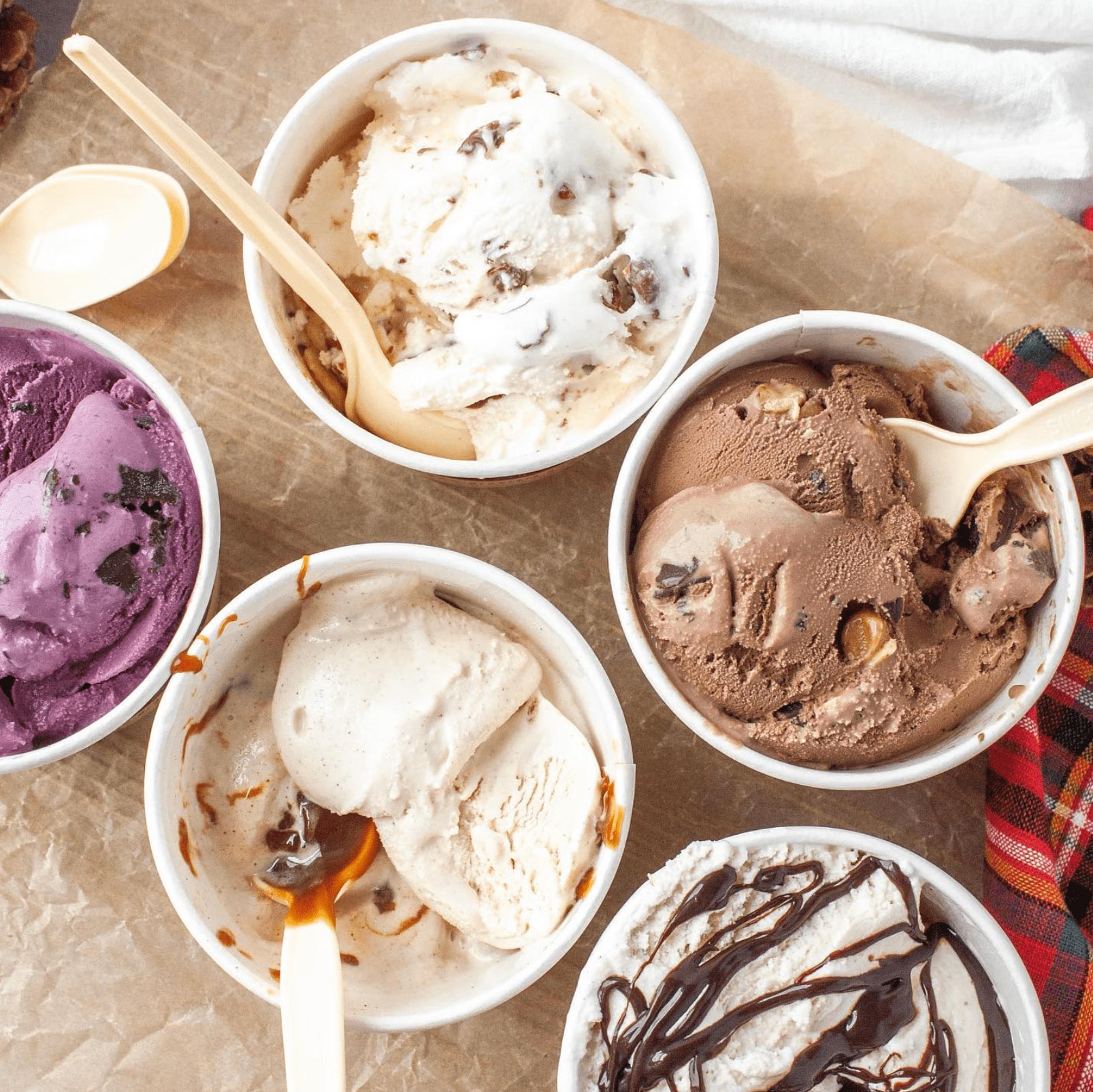 UNIQUE CINCINNATI ICE CREAM FLAVORS
Want to know where to get the real scoops in Cincinnati? The Queen City is home to an incredible array of Cincinnati ice cream shops—all with distinct local flavors and must-try regional treats. Here's a lineup of our favorite options for you to sample next time you're in Cincinnati.
YOUR MUST-TRY CINCINNATI ICE CREAM SHOPS
VIETNAMESE COFFEE GELATO AT DOJO GELATO
Italian-style gelato ice cream in the Queen City? We're interested. This smooth, creamy dessert is made from scratch in the Dojo Gelato kitchens, available at Findlay Market and a few Northside locations in the Cincinnati area. Their Vietnamese Coffee flavor is one of their most popular (and unique), so be sure to give it a try. The word "dojo" traditionally describes the pursuit of excellence, and, since 2009, Dojo Gelato has dished up delectable ice creams, coffees and other treats. If you're in the mood for fresh sorbetti, gelatti, and more, visit Dojo Gelato or follow their social media to see if you can catch one of their gelato trucks as it roams through the Tri-State area.
EDIBLE NUTELLA COOKIE DOUGH AT PENDLETON PARLOR
Pendleton Parlor has one goal: Making sure that your Cincinnati ice cream experience is memorable. Since opening in OTR in the '50s, Pendleton Parlor has offered traditional shakes, malts, and a line of innovative (and mouth-watering) edible cookie dough treats. And bonus: the interior decor at its Pendleton, Old Milford, and Mt. Washington locations are whimsical and inviting—worth sitting in and enjoying. In addition to from-scratch cookie dough treats, Pendleton Parlor offers a full menu of espresso drinks made from locally-roasted beans. When you visit any of their three locations, take time to look around: Each parlor pays tribute to its past by displaying memorabilia, local artifacts, or (in the parlor's own words): "Simply neat stuff." If you're interested in a snack and a fun diversion, Pendleton Parlor is the place to be.
CARAMEL PRETZEL ICE CREAM AT SIMPLY ROLLED ICE CREAM
Rolled Ice Cream? What's that? This locally-sourced rolled ice-cream shop takes its inspiration from Thailand's street vendors. Walk into Simply Rolled Ice Cream, request a made-to-order ice cream roll, and then sit back and watch! Before your eyes, your ice cream order will transform from a liquid into sheets of ice cream, then rolled into a gorgeous ice cream treat, easy for carrying around and snacking on the go. Not only is this innovative process fun to see, Simply Rolled offers a massive range of fun flavors, as well as a variety of delicious toppings. In addition to selections such as caramel pretzel and matcha berry, Simply Rolled Ice Cream offers seasonal treats (such as Pumpkin Pie rolls) and one-of-a-kind specialties, such as their must-order Cotton Candy burrito. When you visit, be sure to grab a few extra Buckeyes to enjoy on your way home!
HOMEMADE MARSHMALLOWS AT HELLO HONEY
Dutch Chocolate ice cream, banana honeycomb, Earl Grey blackberry, charcoal black sesame – it's hard to pick just one flavor to feature at Hello Honey, a Cincinnati ice cream parlor that's been around since 2012. If we had to pick just one reason to visit this shop, we've got to talk about the gigantic made-in-house marshmallows atop every order. Hello Honey has three area locations: Fort Thomas, downtown Cincinnati, and the East side, near Hyde Park. At each, they offer fresh flavors, exciting toppings, and (importantly) the ability to order full pints of your favorite ice creams, so you can enjoy Hello Honey desserts on-location or from the comfort of your own home.
BUBBLE TEA AT MILK JAR CAFE
Milk Jar Cafe's menu is so expansive that it's been described as "overwhelming." Yet every single flavor and combination is creamy, rich, and delicious. Whether you select a dessert from the cafe's Creamistry, tea selections, or "Cereal Killer" line of dishes, you'll get flavors you've never experienced. From the less-sweet Jasmine Green Tea and Ceylon Black Tea options to confections brimming with rolled ice cream, Lucky Charms, and gummy bears, Milk Jar Cafe has something for everyone! Milk Jar currently has one location in Hyde Park, Cincinnati.
MOCHA CHIP ICE CREAM AT AGLAMESIS BRO'S
If you ask any Cincinnatian which Cincinnati ice cream is their favorite, their answer will likely be either Aglamesis Bro's (or Graeter's, which we'll talk about next!). This iconic Cincinnati ice cream shop was founded by Nicholas and Thomas Aglamesis in Norwood, in the early 1900s. Today, their two Cincinnati locations (in Montgomery and Oakley) consistently offer fresh, traditionally-made, high-quality ice cream. You can't go wrong with any ice cream flavor at Aglamesis Bro's, but the Mocha Chip ice cream is a regional fave. Aglamesis offers options outside of traditional ice cream, too, with a wide selection of gourmet chocolates available in-store, as well as a line of Italian ices. (Pro tip: try Champagne Italian ice, it's incredible!)
BLACK RASPBERRY CHOCOLATE CHIP AT GRAETER'S
Cincinnati ice cream is almost synonymous with Graeter's, a local ice cream shop founded in the 1860s. Since then, Graeter's has exploded in popularity, with pints of its products available in many grocery stores around the Tri-State area. Graeter's tends to keep their list of flavors streamlined, rotating through a luscious list of seasonal flavors (from real-fruit peach and strawberry ice creams in the spring and summer to spicy, minty confections available only in the fall and winter!). Year-round, you can grab a cone studded with Graeter's iconic, gigantic chocolate chunks in flavors ranging from toffee to black raspberry, Buckeye Blitz, and more. Graeter's also offers ice cream cakes, sorbets, sundaes, and coffee. Stop by any of Graeter's 18 Cincinnati locations for truly decadent treats!
BLOOD ORANGE SORBETTO AT BUONA TERRA
Buona Terra, in Mt. Lookout, features a rotating menu of artisanal gelato and sorbetto flavors. Flavors depend on whatever fresh produce Buona Terra's is able to get—resulting in a bewildering array of options like mango passion fruit, tart cherry mascarpone, Earl Grey white chocolate, and more. Buona Terra markets its treats as healthier alternatives to ice cream, without skimping on flavor. Their gelato is made traditionally, using an Italian hot process that you won't find anywhere else in Ohio. Buona Terra also offers bakery treats, including delicate French macarons. You can even place a catering or bakery order to provide fresh-made delicacies for your next event.
DEATH BY CHOCOLATE AT BUZZED BULL CREAMERY
Want some ice cream with a side of bourbon? Buzzed Bull Creamery offers its visitors ice creams and milkshakes infused with liquid nitrogen—and the adult beverage of your choice. Each order is made on the spot, allowing full customization of each delectable treat. Buzzed Bull Creamery offers flavors ranging from Dreamsicle to Death by Chocolate, Tiger Stripes, and other can't-miss flavors. The company also offers coffee for those who don't arrive with a sweet tooth in tow, and has created a warm, inviting atmosphere for their local community to enjoy as a place to celebrate.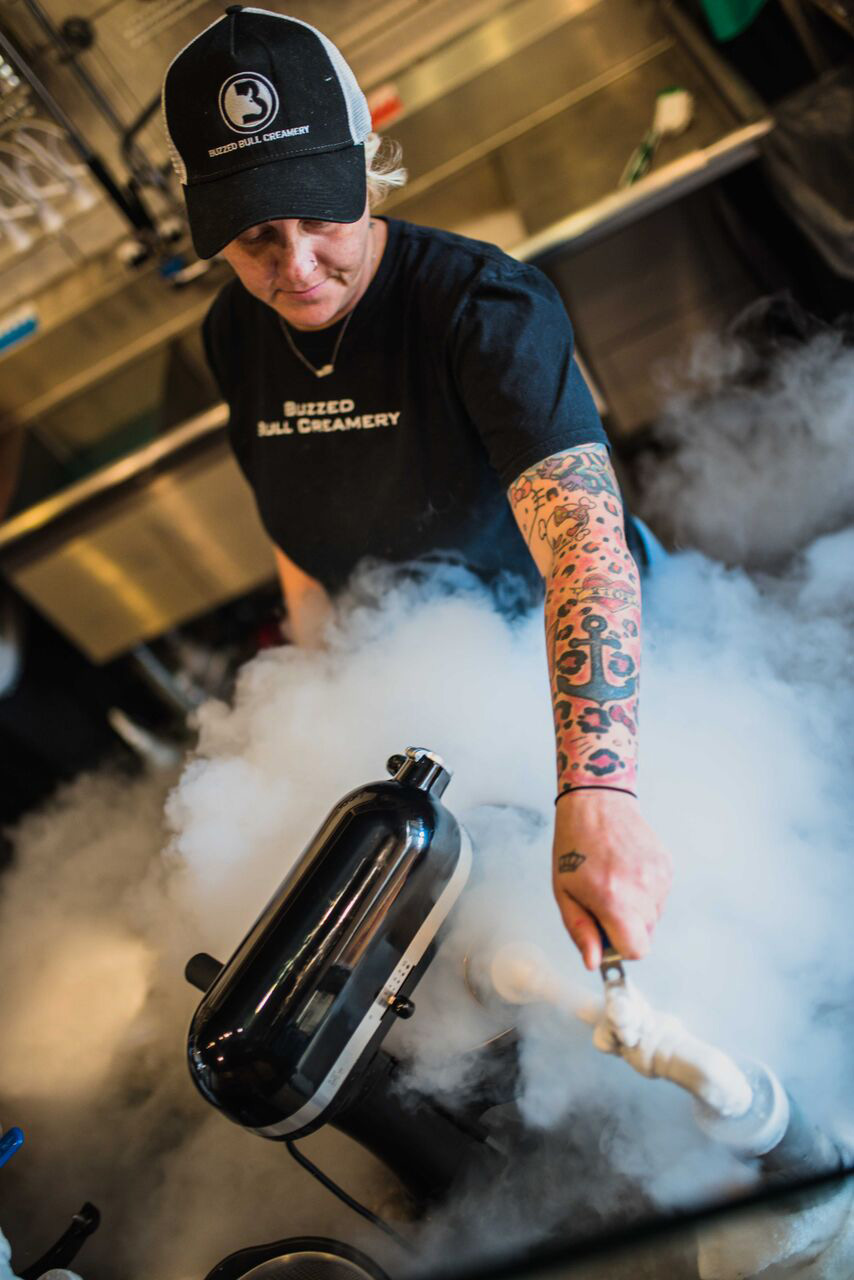 ENJOY A SLUSHY OUTSIDE AT THE MT. HEALTHY DAIRY BAR
Large portions, rich flavors, and a bounty of outdoor patio and grassy plot seating. If you're looking for a place to enjoy Cincinnati's mild climate and indulge in a chill dessert, Mt. Healthy Dairy Bar is the place to be. Would a drive-up window be convenient to treat your family on the go? Mt. Healthy Dairy Bar will take your order. Interested in a walk-up ordering experience to complement a sunset stroll? You can do just that at Mt. Healthy Dairy Bar. Located on Hamilton Ave in Cincinnati, Mt. Healthy Dairy Bar serves a wide range of flurries, cones, slushies, and sundaes for the entire family to enjoy. Mt. Healthy Dairy Bar is a seasonal restaurant, so make a plan to enjoy a cup here during the warm summer months. Our fave flavor recommendation? It's got to be the Perfect Pineapple Sherbet.
CATCH A CONE AT ANY OF CINCINNATI'S ICE CREAM TRUCKS
There's nothing quite like hearing the ditty of an oncoming ice cream parlor on wheels, is there? We're believe that any Cincinnati ice cream truck is a good one, but our particular favorites are Hometown Swirls, Frostbite Nitrogen Ice Cream, and Duebbie Queen's Ice Cream.
Besides ice cream, Cincinnati is home to TONs of great food and drink options that you should check out!