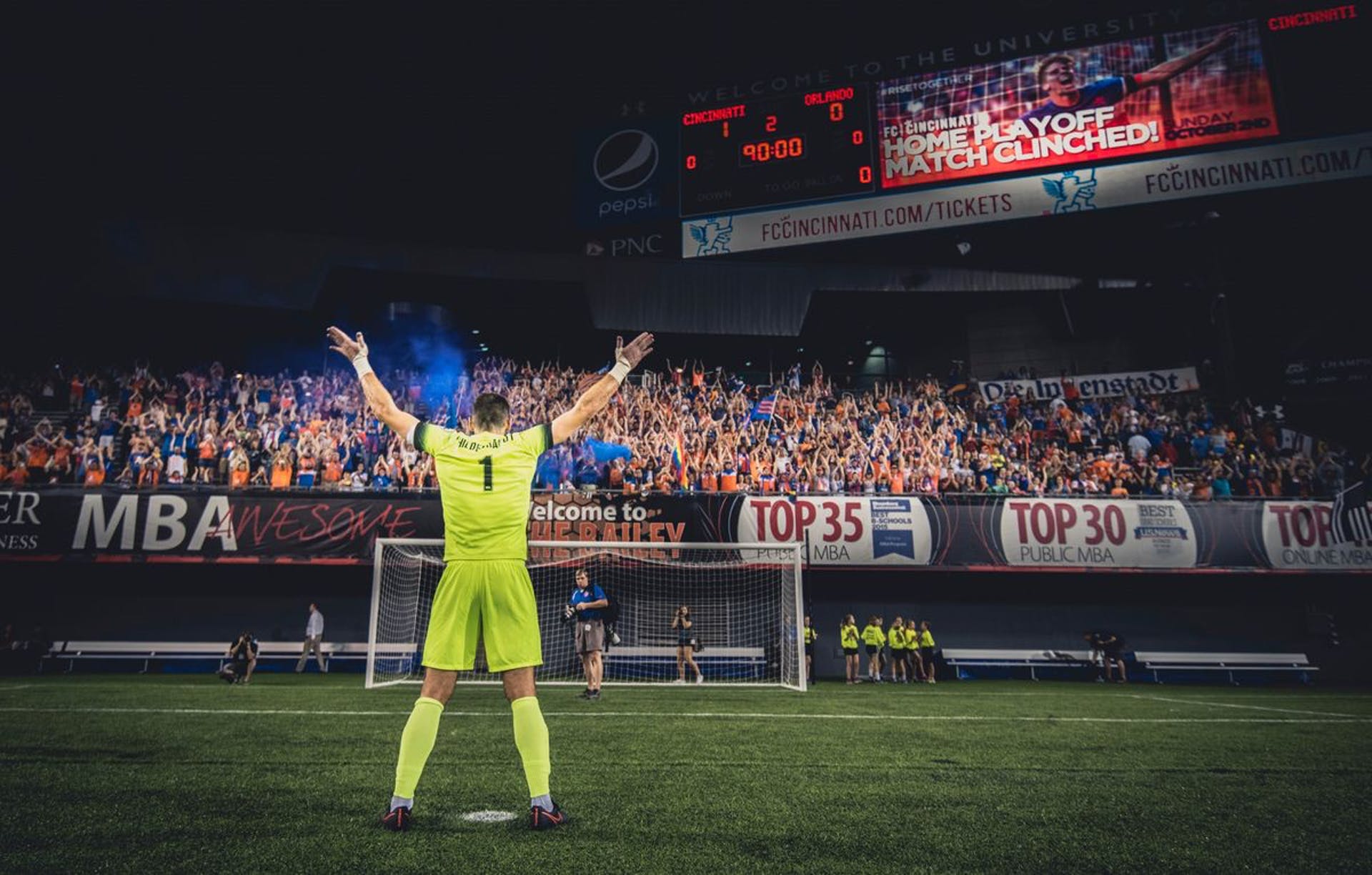 Craze for Cincinnati's USL franchise, FC Cincinnati has taken over the city.
It's been an amazing run for Cincinnati's USL franchise and first professional soccer club, FC Cincinnati.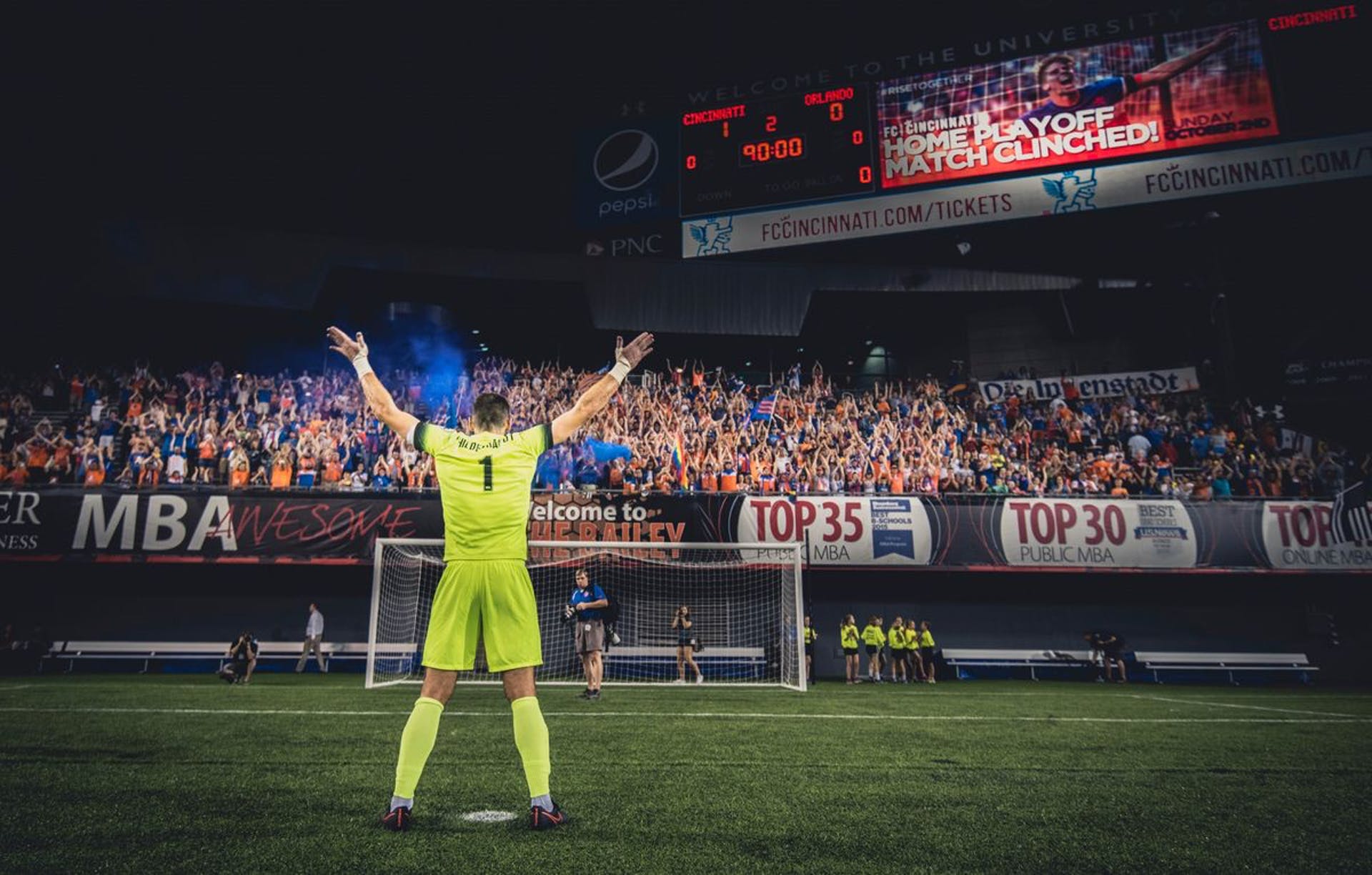 Setting Records
In just two short seasons the team of national and international superstars has not only won the hearts of hometown superfans who've packed the University of Cincinnati's Nippert Stadium for raucous home games, but they've also blazed an unprecedented path through their league, setting records and defying all expectations as they make a stellar case for jumping up to MLS in record time.
Witnessing FC football madness is one of the most exciting spectacles in modern sport. From the raucous, foot-stomping, drum-bashing die hards who fill "The Bailey" section in the North end of Nippert with face paint, banners, smoke bombs, drums and a sea of blue and orange FCC gear to the electric atmosphere all over the surrounding Clifton neighborhood on home game days, the team has taken the city's energy – long defined by its major league football and baseball sports teams – to a whole new level.
The organic enthusiasm from their Cincinnati fans is unlike anything previously seen, with supporters taking it upon themselves to create new traditions and chants (including "Mitch Says No!" in honor of shot-blocking goalie Mitch Hildebrandt) and the 1,700-strong Bailey crew providing a roadmap for fandom, from holding up FCC scarves at crucial moments to starting stadium-wide handclaps and generally firing up Nippert when things get tense or close.
For a team that hoped to reach 10,000 in attendance in its first year, but which hit almost 17,000 per game by season's end and more than 35,000 for their instantly famous Crystal Palace friendly, FCC has quickly outstripped all expectations and become a fast tradition in this sports-loving region.
Some notable highlights from FCC's first two seasons:
Less than a week before their 2017 regular-season home finale, FCC broke a USL regular season single-game mark with an announced 25,309 tickets sold to pass its own former USL record of 25,308 against Orlando City B just a month earlier (Aug. 5).
Set a USL season attendance record with 259,437 in 2016; and then beat that record in 2017 with 308,764. The team set or broke five attendance records in its first year alone.
Set an all-time single-game USL playoff record of 30,187 against Charleston Battery in 2016 (Oct. 2). (The previous record was set by Orlando City SC in 2013 USL Cup Final with 20,886.)
Oct. 5, 2016, was declared "FC Cincinnati Day" and the first-year franchise received a mayoral proclamation, read by council member, Amy Murray, recognizing FCC's owners, coaches, players and staff for their success in the inaugural season.
The team has inspired numerous fan groups including:"Die Innenstadt," an independent, non-profit whose name translates to "Inner City" in german and which welcomes anyone to join in for member-only events, charter buses to away games and watch parties.
"The Pride,"
"The Legion,", a student-focused group
"Queen City Firm,",
"The Bailey Bastards"
"The Den," which focuses on parents and children.
Each unique group brings their own special energy, gear and game day cheers to the party.
FC Cincinnati Craze By The Numbers
159,437 With attendance over 10,000 for all their USL matches in 2016, FCC broke the league's single-season attendance record against New York Red Bulls II (July 2) as the 259,437 mark smashed the previous high of 158,516 set by Sacramento Republic FC.
35,061 Though it didn't make it into official league records, 35,061 watched FCC host Crystal Palace FC in a sold-out international friendly in 2016.
446,194 2017 attendance to date 446,194 (which at press time included 5 home Cup games, and one friendly). FCC also held the season attendance record in 2016 with a game day average of 20,744 and a home average of 21,000 including friendlies and Cup games.
First in the league Merch sales ](http://www.shopfccincinnati.com) were first in the league in 2016 with jerseys selling out, followed by strong sales for scarves, Nike authentic wear and winter gear.
163,000 Social media following is also through the roof, with 64,000 FB followers, 63,000 Twitter followers and 36,000 Instagram followers.
Two dozen bars Nearly two dozen bars are considered official "pub partners," where fans can grab a pint and watch every match of the season. Among the participating bars, which stretch from the northern suburbs to Wilder, Kentucky, are: Molly Malone's Covington, Rhinehaus, Taste of Belgium, Mecklenburg Gardens, Fifty West Brewery, Moerlein Lager House, Mio's Clifton, Bucket Heads, The Pub Rookwood, Jag's, North Second Tap & Bottle, Murphy's Pub, Longnecks Sports Grill, Moerlein Malt House Taproom, Second Place Bar, Maloney's Pub Delhi, Rhinegeist and Sammy's.
2018 season ticket memberships are now available. Reserve yours today at http://www.fccincinnati.com/.
All figures are accurate as of posting date.
Writer Bio: Gil Kaufman is a Cincinnati-based writer/editor whose work you've surely read in MTV.com, Billboard.com, Rolling Stone, the Cincinnati Enquirer, Spin and Wired.