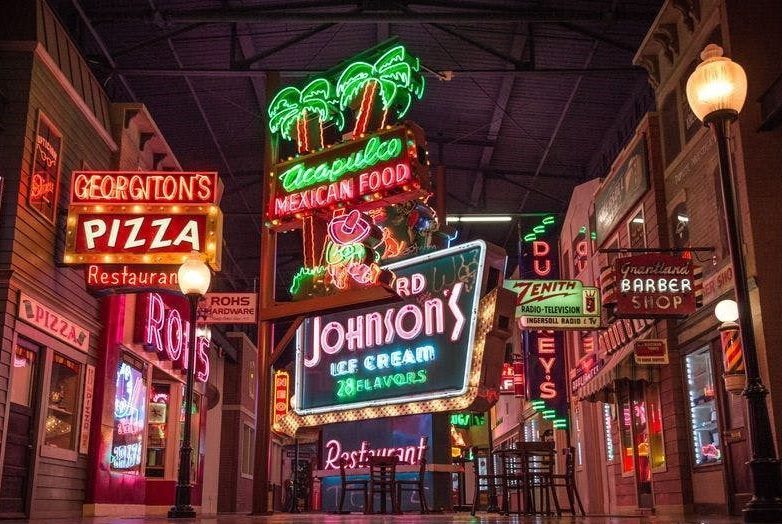 March is Women's History Month and March 8 is International Women's Day. It's our chance to celebrate the leadership and contributions of women now and throughout history. In no particular order, here are seven notable women who built Cincinnati with their wit, creativity, drive, and courage.
Mamie Smith (1891–1946)
You might know about King Records, recording studio to such stars as James Brown and The Stanley Brothers, but Cincinnati's music history goes back even further, and it starts with Mamie Smith. Billed as "The Queen of Blues" after her 1920 hit "Crazy Blues," Smith is widely considered to be the first recording blues artist. "Crazy Blues" was inducted into the Grammy Hall of Fame in 1994, and in 2018, around the same time that Artworks unveiled a new mural celebrating Smith, writer John Jeremiah Sullivan confirmed through records research that Smith was born right here in Cincinnati.
"Dreaming Blues," 309 E. 13th Street, Over-the-Rhine, Image courtesy Artworks, photograph by J. Miles Wolf
Elizabeth Blackwell (1821-1910)
The first woman in the United States to receive a medical degree was an early Cincinnatian, and we cannot overstate her contributions to both medicine and gender equality. Born in England in 1821 to an Abolitionist Quaker family, Blackwell immigrated to Cincinnati in 1832 when she was just 11 years old. She attended Geneva Medical College in rural New York and after much discrimination and struggle, graduated first in her class in 1849. Blackwell went on to lead several notable clinics, colleges, and hospitals in New York and London, paving the way for generations of female physicians and researchers.
Bobbie Sterne (1919–2017)
Bobbie Sterne  was one of the first female mayors of any major American city. Elected in Cincinnati in 1975, Sterne served two terms, and her tenure saw important progress in the city's service to women and minorities. She declared June 30, 1979, to be Lesbian-Gay Pride Day in Cincinnati and focused many of her efforts to support women and children. Upon her resignation in 1998, she made a final request to her colleagues: "Give special care to the children, the elderly, the sick, the homeless, the poor, and the disabled."
Rosemary Clooney (1928–2002)
Rosemary Clooney was born in Maysville, Kentucky, but got her professional start in Cincinnati after performing on a 700 WLW radio show with her sister Betty. Rosemary went on to an acclaimed singing and acting career (White Christmas, anybody?) and helped to define the era of 1950s Technicolor musicals. She is immortalized in Cincinnati in an Artworks mural that perfectly captures her vivid and passionate personality.
"Swing Around Rosie," 1606 Pleasant Street, Over-the-Rhine, Photo courtesy of ArtWorks, photograph by J. Miles Wolf
Maria Longworth Nichols Storer (1849–1932)
In 1880, Maria Longworth founded the Rookwood Pottery Company in Cincinnati, making her one of the first female entrepreneurs in the country. She hired a staff of potters, chemists, and painters, many of whom were women, and in 1889 won a gold medal at the Paris Exposition, launching American pottery onto the national stage. Rookwood remains one of the most famous pottery companies in the world.
Harriet Beecher Stowe (1811–1896)
You might not associate Uncle Tom's Cabin author Harriet Beecher Stowe with Cincinnati, as her world-famous 1852 novel tells the story of slavery in the pre-Civil War south. But it was Stowe's time in Cincinnati, starting in 1832 when she moved with her parents from Connecticut, that allowed her to observe first hand the Kentucky slave markets that partly inspired characters like Eliza, Little Eva, and Simon Legree. Uncle Tom's Cabin galvanized abolitionists around the cause of freedom, and legend has it that upon meeting Stowe, President Abraham Lincoln said "So this is the little lady who started this great war."
You can visit the Harriet Beecher Stowe House in Cincinnati, where she lived until she was married in 1836.
Ruth Lyons (1905-1988)
Ruth Lyons was the Oprah of Mid-Century America. According to The Cincinnati Enquirer, her television show The 50/50 Club was the top rated daytime television program in the US from 1952 to 1964 and in 1957, was the first program in the Cincinnati market to be broadcast in color. Many have called Lyons, known for her trademark white gloves and "bouquet microphone," the inventor of the daytime TV talk show.
Ruth Lyons remains a force in Cincinnati and beyond through The Ruth Lyons Fund, which has supported life-changing programming at Cincinnati Children's Hospital for more than seven decades.